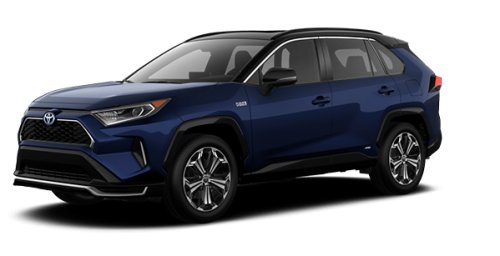 At the end of February my (until now) trusty 2013 Toyota Highlander had a sudden and unexpected engine failure which, no longer having a working car, sent us on a stressful week and a half of decisions, research, and frustrating shopping (it is really not a good time, supply-chain wise, to be buying a new car). 
I've been driving Highlanders (well, two of them anyway) since 2003. Now that my daughter is off at college (and almost done, at that) I knew my next vehicle was going to be downsized: we no longer needed the cargo capacity, V6 engine, or towing capacity of a large SUV, but still wanted an SUV (or crossover). Since I am pretty fond of Toyotas (we've owned two Highlanders, a Camry Hybrid, and a Prius) I was already considering the RAV4 as my next car. 
I won't go into the details of that stressful time but suffice it to say we had a stroke of luck near the end of our ordeal and wound up with our fantastic new SUV: the 2022 Toyota RAV4 Prime XSE.
The Prime is a PHEV that's rated for 42 miles of range on electric (thanks to its 18kWh battery) and 94 MPGe. It has AWD (electric motors on both axles), 302hp and a towing capacity of 2500lbs (making it actually more powerful than the V6 Highlander that it replaced) and is highly rated by Consumer Reports. This isn't a car blog though, and I'm not a car guy/reviewer so I won't go into any more specs, road test results, safety features, etc. (you can read about all of that elsewhere easily enough). I am a technology guy though, so as usual I'll focus on some of the cool tech in my new ride. Since the last car I bought was in 2013, we've got 9 years of innovation to cover! 😉 just kidding, let's go!
Charging
The Prime can act like a traditional hybrid, using regenerative braking and the gas engine to charge its battery, but since it's a plug-in hybrid the point is to save money on gas by plugging it in and using (hopefully cheaper) electricity instead. A Level 1 (120V) charging cable is included so you can plug it into a traditional outlet at home, which will take about 12 hours to fully charge an empty battery. With a Level 2 (240V) outlet, that drops to 4.5 hours. The SE and XSE trim lines both have 3.3kWh chargers internally, which only go up to 16 amps. The Premium Package on the XSE (which I don't have) bumps that up to a 6.6kWh charger which will charge from empty in 2.5 hours (240V/32a). 
Since we have plans to get an EV as our second car in the near future, I already worked with an electrician to get a 240V/50a outlet installed in my garage (yes, that's overkill for the RAV4 which can only use 16a, but again, this is meant primarily for our future EV). To that, I connected the ChargePoint Home Flex EVSE (electric vehicle supply equipment). The Flex connects to your WiFi network and using the mobile app you can get details on your charge times, amount of electricity used, and how much it cost. If you use ChargePoint's network of public L2 chargers, all of that info is recorded in the app as well (and it's also used for paying at those stations). You can set times and schedules (the RAV4 has this feature built-in as well) to charge when electric rates are lower, but here in Florida we don't have those discounted rates available (thanks, Duke Energy!) so I just have it set to charge as soon as it's plugged in (although I may experiment with a charging schedule so the battery isn't sitting at full charge overnight). Both the ChargePoint app and the Toyota app (more on that below) can send notifications when charging is complete so you can unplug (particularly helpful if you're at a public station, I would guess).
Toyota Connected Services
It seems like everything connects to the internet (IoT) nowadays and new cars are no exception. New Toyota vehicles come with a slew of available connected services along with free 1-year trials to get you hooked (after that, it's about $8/mo for each service, which can quickly add up for a monthly bill). Safety Connect (roadside, theft, and emergency assistance) and Service Connect (vehicle health and maintenance) are pretty standard (the exception here is that you get Service Connect free for 10 years), although still new for me.
EV Remote Connect is the one that gives you the cool tech features via the Toyota app: status alerts (fuel level, doors/windows status, tire pressure), remote start and climate control, and charging control. I can lock or unlock the doors, or start the AC (there's no "remote start" on the Prime as it doesn't make sense to start the ICE on a PHEV). There are also "find" features like the last place you parked and nearby charging stations and parking spots. Finally, it adds support for Amazon Alexa and Googe Assistant ("Alexa, are my doors locked?" or "Alexa, how much gas do I have left?"). The Toyota app also just got bumped to v2.0 and had a major UX change, so a lot of the screenshots and documentation (such as it was) are out-of-date now. I'll have to see how much I rely on these options over the next year.
The last connected service is WiFi Connect from AT&T. In an age of unlimited data plans on our phones, I'm not sure why I'd want to turn my RAV4 into a 4G LTE hotspot when I can just turn on the hotspot on my 5G iPhone if someone needed to use their laptop. Since I'm already an AT&T customer, this would cost $10/month to add the Prime to my plan. For some people without unlimited plans maybe this would be cheaper, or maybe provide better coverage? But again since I'm already on AT&T, if my phone has poor signal, I'm guessing the car would to. I'll play around with the 2gb trial plan but don't forsee paying for this after that.
The head unit also has Alexa (and Google) support which can be used without one of the connected services. However, it's super clunky: you have to install a separate Toyota+Alexa app on your phone, have your phone paired to the car over Bluetooth, and manually launch the app (every time you get in the car!) just to be able to say "Alexa, do something." And if you have your phone connected via USB (for CarPlay or Android auto, see below), Bluetooth is automatically disabled, which kills the Alexa feature. I guess it'd be nice to use voice commands to Alexa to turn on lights or kick off my other routines while in the car, but the implementation just isn't worth it. It's about the same level of Alexa "support" (used very loosely!) on my LG wall oven. I still need to experiment to see if I can use Siri more instead.
Apple CarPlay
Back in 2013 I wrote about my experience using my iPhone with Toyota's Entune system on my (then new) Highlander. We're now in the era of CarPlay and Android Auto, both of which are supported by the Toyota head unit in the Prime (something I was hoping for back in 2014). Using either of these gives your car a sort of split personality: the slick Apple or Google interface for navigation, music, and communication; and then the slightly less cool Toyota interface (not Entune anymore) for the radio, energy monitor, and vehicle settings. Since I'm an iPhone owner, I'm using CarPlay.
The Prime only supports wired CarPlay, so you have to plug your phone into the USB-A port in the center console in front of the gear shifter (that's the only USB-A data port in the car, all the rest are USB-C for charging only). As I mentioned above, using wired CarPlay disables the phone's Bluetooth connection to the head unit. Pressing the voice control button on the steering wheel will invoke the Toyota voice assistant, so you need to hold it for about two seconds to get Siri to respond instead (or use the "Hey Siri" voice command if you have that enabled on your phone). The interface seems very polished (especially compared to the default Toyota UI) and is pretty intuitive (it's Apple, after all). You can customize some things in the Settings app on the car (wallpaper, notifications, dark mode, etc.), but other settings are done on the phone under Settings > General > CarPlay, like picking which CarPlay-enabled apps appear on the screen and in which order.
CarPlay is such a better experience than the old "Bluetooth connection to my car" method. Although the latest Toyota head unit does have more features than my old Highlander (like Bluetooth profiles so things like radio presets, colors, etc. can be set for each phone), I'll be sticking with CarPlay for sure. And after using wired CarPlay for a few weeks, I made the jump to wireless CarPlay by adding the Carlinkit U2W Plus. This tiny adapter plugs into the USB port (instead of your phone) and then uses Bluetooth/WiFi to connect to your phone. The result is (nearly) the same CarPlay experience, without wires, and it works pretty well. I say nearly because there are a few differences:
It takes a little longer for the phone to connect to the Carlinkit and to CarPlay, but typically by the time I've pulled out of the driveway and am ready to go, so is CarPlay.
It can get confusing when you have multiple phones connected to the Carlinkit. The adapter will attempt to reconnect to the last connected device first, and then to the next device it knows about, which is fine until both phones are in the car and it chooses the wrong one. Example: my wife drives the car by herself, but then later we both get in the car and I'm the driver. The Carlinkit will pair with her phone instead of mine so I have to do some tinkering to flip it to my phone instead. So far the only way I've found to do this is to turn off WiFi on her phone temporarily so the adapter sees my phone instead.
There can be a slight delay when using the voice control button on the steering wheel. I've also read that sometimes the physical controls (like volume) stop working altogether, requiring a reboot of the adapter, but haven't experienced that myself yet.
Typically when playing music and navigating, the audio is paused when Siri speaks the directions. I've had two oddities here: once the directions were spoken oven the audio, making them hard to understand; and once after the directions were spoken, the audio didn't automatically resume. 
I still need to spend some more quality time with the wireless CarPlay adapter as it's only been a few days. But so far I am really loving it. Now I can just toss my phone onto the Qi charger and it connects wirelessly to CarPlay and charges at the same time. And I can grab it when needed without having to unplug it from the USB cable first. Very convenient. This is my best infotainment experience so far. Cool feature: if you take a screenshot on your iPhone while it's connected to CarPlay, you'll get a shot of the phone's screen and whatever is being displayed on the head unit! Of course I figured that out after I took all the photos below. 🙂
Other Tech
In addition to all of the USB charging ports, the RAV4 Prime has a wireless Qi charging pad just in front of the gear shifter, under the head unit and climate controls. My wife and I both have newer iPhones so it's great to be able to just toss a phone in there and have it charge without needing to plug it in. The only issue we've had so far is that my wife's smaller iPhone 12 Mini seems to slide around just enough to sometimes move out of alignment with the charging coils. I don't have that issue with my iPhone 12 Pro Max which pretty much takes up the entire area. Of course you can only put one phone there at a time, so the other USB charging ports still come in handy: one USB-A just above the charging pad (also used for the data connection to the head unit), two USB-C ports in the center console, and 2 USB-C ports in the back seat. There's also two 12V (lighter) sockets: one next to the USB-A port in the front, and one in the cargo area. 
There are a bunch of vehicle customization options available in the Toyota settings (via the MID (multi-information display) on the dashboard and head unit), but there are a lot of items in the manual that require "the dealership." Why I would want to take my car into the dealership and pay them to make a change so I can open my moonroof from my key fob? Enter Carista, an adapter and mobile app that lets you dig into those deeper settings. Like my old Automatic Links (which sadly, were victims of the pandemic when the company shut down in 2020), this $30 gadget plugs into the ODB-II port of your car and lets you read diagnostic codes (like why your "check engine" light is on). Unlike the Automatic, there's also a paid subscription that lets you access more advanced diagnostics (like airbags and ABS) along with access to the manufacturer customizations (for $49/yr!). You get a one month trial with the adapter though, and the changes "stick" on the car, so I figured I would use the free month to do all the tinkering I wanted and then cancel the subscription. So far I've changed the number of turn signal flashes during a lane change from 3 to 5, and also enabled the ability to open all the windows and the moonroof from the key fob. There's a ton of stuff in there to explore.
Miscellaneous Stuff
Other than the tech, I've also been accessorizing my new vehicle, including:
I've been using Fuelly (formerly Gas Cubby) since 2009 to track my gas mileage and maintenance records (and before that it was TealAuto on my Palm devices!). With a PHEV, it's a little harder to calculate MPG since there's no easy way to determine how many miles on a tank of gas were actually gas vs. electric. I did some research and considered toying around with formulas before I just decided to relax and record the mileage in Gas Cubby like I would normally: odometer, gallons, price-per-gallon. And I'll still use it to track maintenance (oil changes, etc.). I'll use the ChargePoint app to track electricity costs and can get some basic MPG calculations from that as well. I love data and tracking things, but it's time to let go a little. 🙂 If you want to tinker with estimated fuel and use costs for a PHEV, check out the My Plug-in Hybrid Calculator.
That about wraps it up for now. I've only had the RAV4 Prime for less than a month so I'll be sure to update this post as I get more familiar with everything.