Hey, just so you know ... this post is now about
9 years and 2 months
old. Please keep that in mind as it very well may contain broken links and/or outdated information.
A few weeks ago I traded in my trusty old 2003 Toyota Highlander (174,000 miles) for a new 2013 SE model. In addition to all the automotive and mechanical advances in a 10-years' newer SUV, I finally have built-in Bluetooth and iPod integration! (I know, welcome to 2008, right? 😉 ). Toyota's Display Audio system has a lot of cool features, but as with any "new" technology, it's not without its share of end-user frustration.
My base Display Audio system (without Entune which lets you run apps for things like weather, traffic, and streaming audio by using your smartphone's data connection) allows for Bluetooth audio and hands-free phone connections, and includes a USB port for iPod/iPhone charging/control (or music playback from a thumb drive) and an aux jack for other audio devices.
Pairing my iPhone 4S (and iPad) with the Bluetooth system was quick and simple.
The system even downloaded my entire contact list, missed calls, etc. for display on the touchscreen:
I can use the steering wheel controls to answer an incoming call, but don't have the built-in voice control to initiate a call (although I can use Siri instead, more on that later).
On the audio side, when my iPhone is connected via USB I can control playback with my steering wheel controls, and I get the title/artist information on my display, even with cover art!
I can also browse my iPhone's media contents by Playlist, Album, Artist, Song, etc. etc.
I know none of this is cutting-edge, earth-shatteringly cool tech, but it's new to me! As I mentioned earlier, however, I've found my share of frustration with using my iPhone with Display Audio:
First off, when playing audio (via USB or Bluetooth), sometimes if use the radio knob (or steering wheel controls) to change the volume, the audio will pause. To resume audio, I have to press the Pause/Play button on the steering wheel or radio touchscreen twice, or use the controls on my iPhone's screen.
More annoying, when I get back into the car and my iPhone reconnects to Bluetooth, for some reason it automatically starts playing music. This wouldn't be bad if it would resume the last thing that was playing but for some reason it always starts the first song alphabetically in my music library, which happens to be "Abracadabra" by The Steve Miller Band. It also seemingly happens randomly, like when my iCatcher podcast app finishes one podcast and should be starting the next. Over the past few weeks I have heard the intro to this song over and over and it's driving me crazy! Sometimes the volume is up loud because I was listening to a softer podcast or whatever and the intro blasts out of the speakers. Augh!
When connected to USB and playing video podcasts or other videos (locally stored, Amazon Prime streaming, etc.) the audio is out-of-sync with the video. When using Bluetooth, the sync is fine.
No covert art is displayed when using Bluetooth:
my third-party podcast app (iCatcher) doesn't show cover art over USB
Neither Bluetooth or USB is perfect for audio playback. If I use Bluetooth, I don't need to use a cable (except for charging)  but then I don't get cover art and the random pausing when changing the volume seems to happen more often. If I use USB I get charging, cover art, and less random pausing, but out-of-sync audio when playing video content (although granted that's not a huge deal since I'm not watching video while I'm driving anyway). I like to keep my iPhone connected to USB (so it charges while I commute) and to Bluetooth for hands-free phone calls. Each iPhone app lets me select an output for audio:

But it never seems to
remember
my selection so I'm constantly changing the output on my phone and then the source on my radio. Lots of fiddling every time I get into the car.
The biggest problems, though, occur when trying to use Siri (or voice dictation) for hands-free control of my iPhone when driving. Both features seem to default to Bluetooth when available. At first, that seemed great because Siri's voice would come through my Highlander's speakers and I could use the car's microphone. However, the Toyota Bluetooth seems to get confused when Siri takes over. The music pauses (as it should) but then the display changes as if a phone call is in progress (which it must assume since a hands-free Bluetoooth connection is initiated by Siri). At this point Siri beeps but then freezes and the Bluetooth disconnects and the music resumes. The same thing happens when trying to use voice dictation (the microphone button on the iOS keyboard).
Basically, the Display Audio Bluetooth system and Siri just don't get along and I couldn't find a way to prevent Siri from using Bluetooth. Since I'm jailbroken, I tried the Bluetooth Service Manager to disable the HFP (hands-free) profile, but it didn't work with iOS 6 and I couldn't find any other way to prevent Siri from using Bluetooth. The only method that seems to work is starting Siri and tapping the hands-free icon to turn it off: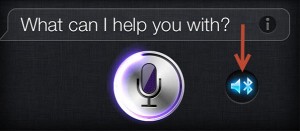 Then Siri will use the iPhone's internal speakers and microphone instead of the hands-free system in my Highlander. This means the audio is a lot quieter, and the voice recognition might not be as accurate since the microphone is farther away from my mouth, but at least it works and that's the important part. The annoying part is I have to do this every time I get into the car because again Siri won't remember my selection and defaults to Bluetooth. If anyone knows a way to permanently disable Bluetooth/hands-free for Siri (or, ideally, a way to get Siri to work properly with the Bluetooth in my Highlander), drop me a line in the comments please!
Finally, since I didn't need my Belkin TuneBase FM anymore I had to find a different way to mount my iPhone for easy access while driving. I considered this CD-slot mount, which had a lot of great reviews on Amazon, but in either orientation it would block one of two screens in my center console. I ended up with a cup-holder mount instead and am extremely happy with it.
Despite all the quirks and frustration the Display Audio system has caused me, I still love my Highlander and am hopeful that maybe some future software updates (for both the iPhone 
and 
Display Audio) might smooth over some of the bumps in the road I've experienced so far.
Update 01/27/2014: since upgrading my iPhone 4s to iOS 7.04 (jailbroken) my handfree experience with Siri in my Highlander has gotten remarkably better! I can now consistently "summon" Siri and the handsfree Bluetooth connection will stay active until I dismiss her. I also no longer seem to have the random pausing issue when using the steering wheel volume controls. All-in-all, much better! Unfortunately, I still have the "Abracadabra" issue. I've also switched to a magnetic, CD slot-mounted phone mount, instead of the cupholder one. A slim piece of metal goes inside my iPhone case and it just sticks right to the mount for easy placement and rotation. The location of the CD player above the DisplayAudio screen does block it a little, but it's not too bad.