Hey, just so you know ... this post is now about
4 years and 5 months
old. Please keep that in mind as it very well may contain broken links and/or outdated information.
In a surprise pre-Christmas present to the anxious jailbreak community, the Evasi0n jailbreak for iOS 7.0.4 was released two weeks ago. I almost jumped on it immediately (I've been stuck on iOS 6.1.2 since my last jailbreak) but since I was heading out of town for Christmas and there was some controversy around the initial release I decided to wait it out. After I got back from our holiday travel, though, I had some free time before New Years' and decided to go for it.
To prepare, I first made a full backup of my device in iTunes, PkgBackup, and iCloud, saved a list of all my installed Cydia packages, and took screenshots of all of my springboard folders. I then did a clean install of iOS 7.0.4 to my iPhone 4S and then restored my backups. Then it was time to jailbreak, and this time around I had no issues with the process.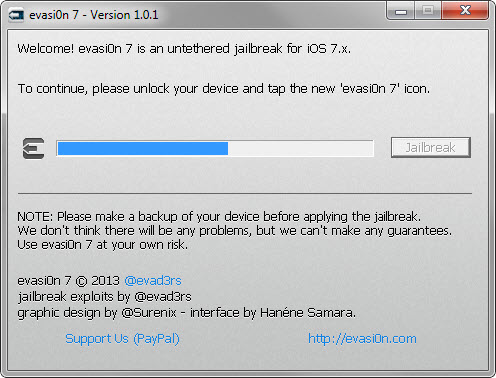 When the jailbreak process was complete, I was able to run Cydia and start re-installing my tweaks. I decided not to restore my PkgBackup backup this time since the jailbreak was so new and a lot of tweaks weren't yet iOS7 compatible (like FolderEnhancer, so I had to re-create all of my folders … thank goodness I took all of those screenshots!). I took the safe route instead, installing one tweak at a time, using the list I had saved before starting. Luckily, the iOS7 version of MobileSubstrate (now called Cydia Substrate) was released a few days later, so compatible and updated tweaks started appearing quickly.
So far I'm pretty happy with the jailbreak. I'm only missing a few tweaks:
And I've run into a few minor issues:
Icon Renamer won't rename biteSMS for some reason
I'd like FlipControlCenter toggles for SSH and GuizmOVPN (hopefully these will appear eventually)
the new folder layout in iOS7 (3×3 instead of 4×3) really bugs me! at least you can have unlimited apps in a folder  now, but why show only 9 at a time instead of 16 like in iOS6?
My biggest annoyance right now, however, is the lack of information in the Notification Center: no weather info, the Tomorrow section always seems to be empty despite my having calendar entries for tomorrow, etc. I'm hoping this will be fixed eventually (assuming it's even related to the jailbreak) but for now, it's on my "this really bugs me!" list along with the new folder layout. I've tried everything related to the location services settings and weather app and just cannot get the weather forecast to appear. I didn't realize how much I used that part of the Notification Center in iOS6.
All that being said, here's the list of iOS7 tweaks I am currently using:
BetrFoldr – enable transparent backgrounds and folders-within-folder
Bloard – enable a darker keyboard
customLS – lets you customize your lock screen by hiding the NC/CC tabs and camera slider, changing the "slide to unlock" text, etc.
FlipControlCenter – like SBSettings and NCSettings for iOS7, allows customization of the toggles in the upper and lower trays of the new Control Center
GlowDock – puts a nice glow around dock icons
NoNewMark

– disable blue dot by new/updated applications

NoSlowAnimations – speed up the animations
Percentage – show battery percentage only when it falls below 20%
Purge – easily kill app apps from the switcher

TransparentDock – hide dock background (which works well with GlowDock)
I also played with NCAllOnly, which lets you hide the "Today" and "Missed" tabs of Notification Center, but I've removed it until I figure out my NC problems with the weather and calendar.
And, of course, my favorite old tweaks from iOS6 still work:
I had forgotten how fast my battery can drain when I'm playing with tweaks, constantly re-springing, etc. but I think I'm close to being back to "normal" where I was before the 7.0.4 upgrade and despite iOS7's shortcomings, am happy to be back "current" with other iPhone users again.