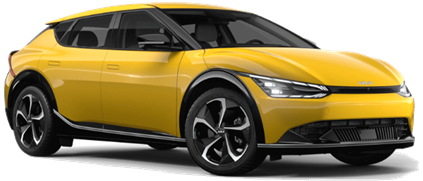 Back in March when we replaced my Highlander with the RAV4 Prime, we figured that would buy us (literally) some time for the Ford Mustang Mach-E we had on order to arrive before the late summer/early fall when we would again require two vehicles. But as the weeks passed it became apparent that the Mach-E was not going into production any time soon so we were also started looking around for my wife's second choice, the Kia EV6.
Again, it's not a great time to be buying a car (new or used) and we were casting a wide net, talking to local dealerships and ones as far away as Michigan looking for a) an available EV6 GT-Line, and b) the lowest over-MSRP dealer markup we could find. Luck turned out to be on our side again when one Friday evening I found a new Urban Yellow First Edition just a few miles north of where we found the RAV4 (the person who had originally placed the order for the FE apparently didn't want it after all). We drove out first thing Saturday morning, test drove it, and decided to buy it (and we had to decide quick because when we got back from our test drive, another couple was waiting to check it out, sorry folks!). Actually finding the car notwithstanding, this was our easiest, smoothest car purchase ever, spending just under three hours total at the dealership before driving my wife's sweet new ride home.
After buying the first Camry Hybrid model back in 2007, putting a deposit down on the Tesla Model 3 when it was announced in 2016 (and never reached the promised $35k price tag so we cancelled it), and then almost getting a Bolt in 2019 (before the big battery recall), my wife finally has her first electric vehicle. Her EV6 is a 320hp, dual-motor e-AWD model with a 77kWh battery pack that will provide an estimated range of 274 miles (105 MPGe). With the sleek lines, sunroof, LED lighting, and 20″ wheels, it's definitely a cool looking car (inside and out) … my neighbor said he thought we had bought a Ferrari when she pulled into the driveway. 🙂 Let's check out some of the tech features …
Charging
With the latest 800V architecture the EV6 can handle ultra-rapid charging up to 233kW. At an Electrify America DC fast charger during our first road trip we were able to go from 30% to 90% charge (~54kWh) in just under 30 minutes (Kia gives you 1000kW on the EA network for free with a redeemable code). At home with my ChargePoint Home Flex EVSE (on the 50a circuit), it'll take about 9 hours to fully charge (or 68 hours with a Level 1, 120V standard outlet).
A cool included feature is V2L (vehicle to load). The included adapter has the standard J1772 plug on one side, to connect into the charging port of the car, and a regular 120V outlet on the other end, allowing you to power regular 120V accessories with the EV6's big battery pack. The available 3.6kW are split between the 15a/120V V2L adapter and the 16a/120C AC outlet in the back seat. This could come in pretty handy during hurricane season here in Florida … you can apparently power a refrigerator for almost two weeks!
Kia Connect
Like my RAV4, the EV6 comes with one free year of Kia's online service, Kia Connect (formerly named UVO Link). The mobile app lets you access features like monitoring your charging status, remote climate control (no remote "start" since this is an electric vehicle), remote lock/unlock, activating the horn and lights, last parking location, a 360-degree photo snapshot, and all sorts of push notifications. Like Toyota there's a lot of stuff in here we'll never use: curfew alerts, geofencing alerts, speed alerts, remote start schedules, etc. The "ultimate" package including all of the features runs at $20/month or $200/year, so I don't see us doing that when the free trial expires next year. Other connected services include a Verizon WiFi hotspot (we're an AT&T family, so not using that … didn't even start the 3 month trial), and a very generous two years of Sirius XM satellite radio (something my wife will use now that the three month trial on the RAV4 is over).
Apple CarPlay
I wrote about my CarPlay experience extensively in my RAV4 post, so I won't get too much more into here. Again, only wired CarPlay (and Android Auto) is supported by the EV6. My wife is fine with this for now so I haven't gotten her a wireless adapter like I did for the Toyota. It's a little annoying that the single USB-A port for CarPlay is up under the center console, pretty far from where you would typically rest your phone, so you need a long USB cable that stretches across the open area down by your feet between where the port is and where your phone will be. A neat feature, though, is split screen. Since the EV6 has such wide screen displays (see the photo in the next section), you can have CarPlay on the left side and still have a smaller EV6-specific screen on the right (unlike the RAV4 where CarPlay takes over the entire screen on the head unit). The EV6 also seems like a perfect candidate for Apple's recently announced next gen CarPlay, but somehow I doubt that will be part of an OTA update. I don't have a lot of first-hand experience with CarPlay in the EV6 yet (after all, this is my wife's car so she's the primary driver) but I'll update this post if I learn anything new or cool.
Other Tech
Today's all-electric vehicles are packed with technology, of course, but I wanted to mention just a few other ones here. In addition to the USB-A port for CarPlay, the EV6 has additional USB-C ports for the passengers to charge their devices (I had to buy a selection of USB-C cables to through in the glovebox). There's also a Qi wireless charging pad on the center console but it's in a slightly odd location that puts your phone under your right arm if you're resting it on that center console. Plus, without wireless CarPlay, it means your phone is probably plugged into the USB-A port and charging anyway. We've also found that the charging pad (and the phone) get a little hot during charging (something I have not noticed with the RAV4's Qi charging pad). There are what appear to be vents in the pad, but I can't tell if there's a fan under there that supposed to be cooling the device while charging.
Driver profiles! Finally we have a car that can remember the different seat positions for my wife and myself, plus a guest. The profile also stores other customization settings like the radio presets, side mirror positions, color of the ambient lighting, dashboard and HUD settings, etc. Too bad there's still not a rear-view mirror that can be adjusted in the same way … that's still manual. Interestingly, the two seat position memory buttons on the driver's side door are separate for each driver profile. This means you actually have 6 different seat memory positions (two for Driver 1, two for Driver 2, and two for the Guest profile). To take advantage of this, my wife's seat positions are stored in #1 for both profiles, and I'm #2. So no matter which driver profile is loaded (and the EV6 will default to the last driver), I can always the #2 button (before the seat tries to crush me into the steering wheel) and the seat will move to my preferred position (even before I switch driver profiles). I wish there was a "copy" feature though as it took me a while to set the position exactly right twice (once in each profile). The profiles can also sync with the Kia Connect app, although it doesn't appear to auto-switch depending on which phone the car detects, so I'm not sure what the point is. It'd also be nice if you could upload your own driver profile photos instead of just having the 10 or so built-in generic images (this might be coming, though, as apparently this is a feature in the Kia Connect app in the UK).
The GT-Line trim comes with a heads-up display (HUD) for the driver. It projects information like your current speed, navigation directions, and safety alerts (like speed limits and blind-spot monitoring) onto the windshield so they appear super-imposed over the road ahead of you. This is another feature I haven't spent a lot of time with since I haven't driven the car a lot, but I've watched it while my wife has been driving and it looks pretty cool. You can customize what you want to see on the HUD along with adjusting its location on the windshield.
You can download software updates for the EV6 from Kia's web site onto a USB thumb drive and then install them into the car. This was confusing at first because the car seemed to indicate there was an OTA (over-the-air) update available, but when I clicked it, it kept asking for a USB device to be plugged in. It looks like the OTA feature might be added in a future update. For now, using a thumb drive was relatively straightforward, although it took almost 90 minutes instead of the estimated 25.
The EV6 has cameras everywhere! In addition to the typical front-facing (for lane-keep assist, traffic sign identification, etc.) and rear-facing (for reverse view) cameras, there are side cameras that are used for the 360-degree overhead view and cameras on the side mirrors that show you your blind spot when the turn signal is on. Unfortunately, I haven't found a dash cam that installs as cleanly as the Fitcamx I put into the RAV4.
We haven't had a chance to test out the automatic parking features yet. According to the manual the EV6 can automatically back into parallel and perpendicular spots automatically, and you can also use the key fob to back it straight into and out of spots (we want to try that for getting the car into and out of the garage).
Miscellaneous Stuff
A few other items:
the glovebox is huge! finally you can fit more than just the owner's manuals in there
there's a small "frunk" (front trunk) in the engine compartment, but we haven't decided what to use it for yet (it's too small for the Level 1 portable charging cable we got from the dealership so we keep that under the cargo deck in the trunk)
the ambient lighting is a gimmick, but kinda cool. the setting saves with the drive profile which makes it easy to determine who the last person to drive was (purple means my wife, yellow was me (to match the exterior of the car), red is my daughter)
In terms of purchasing accessories, so far we've got:
So there we go … two brand new cars in less than three months, both (somewhat) completely unplanned. I'm looking forward to getting some more time behind the wheel of the EV6!