2020's sports season continues to deliver. Both of my teams finished the regular season 11-5 and ended long playoff droughts. It's been a long time since I got to watch my Bucs and Browns play football past early January but both of them won their wildcard games this past weekend and are advancing to the divisional round this Sunday!
The Browns last played in a playoff game in 2003 (losing to the Steelers) and before that was 1995 where, with head coach Bill Belichick, beat Bill Parcel's Patriots (but then went on to lose to the Steelers) and last won a playoff game on the road back in 1969. So beating the Steelers two weeks in a row, in Heinz Field, eliminating them from the playoffs, despite all the COVID-19 issues, is sweet revenge (ok sure, no fans or terrible towels). The Browns now have to face the defending Super Bowl Champion Kansas City Chiefs (another old rivalry from the Marty Schottenheimer days).
Tom Brady continued his playoff streak, guiding the Bucs to their first playoff appearance since 2007 and first playoff victory since 2002 (the year they won the Super Bowl). It was hard to believe that with an 11-5 record they had to play a road game against the 7-9 Washington Football Team (wow, the NFC East was terrible this year), but they won and will face Drew Brees and the New Orleans Saints on Sunday.
With Super Bowl LV here in Tampa on February 7, you know I'm pulling for both teams to make it, but let's not get ahead of ourselves. Both teams have a tough road ahead.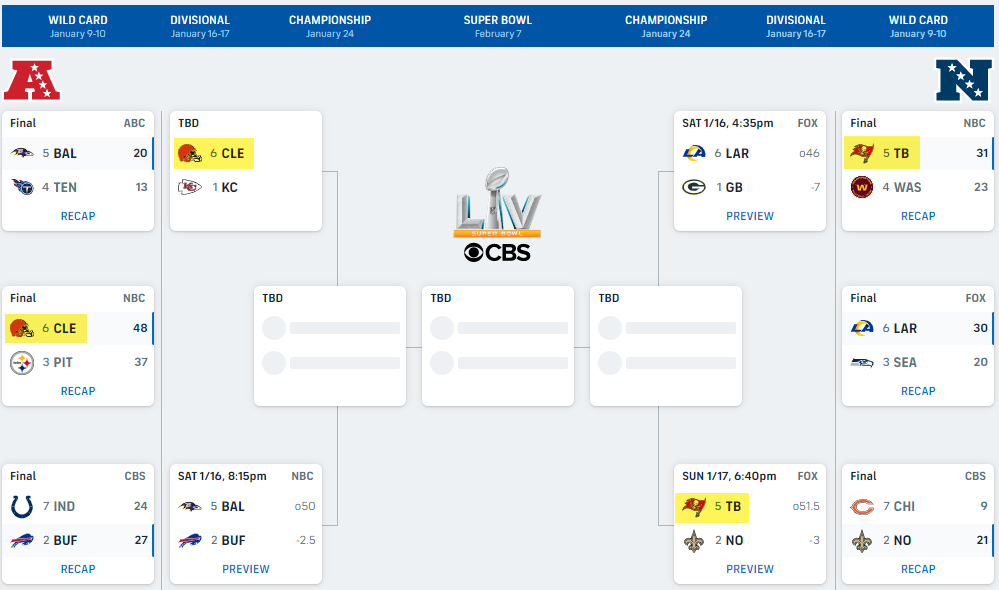 Go Bucs! Go Browns!