Hey, just so you know ... this post is now about
4 years
old. Please keep that in mind as it very well may contain broken links and/or outdated information.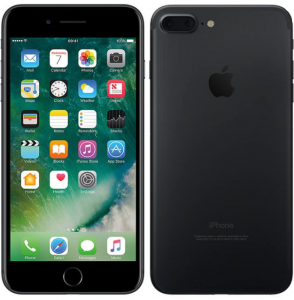 Right after Thanksgiving my iPhone 6 Plus started exhibiting the symptoms of touchscreen disease: the screen would just stop responding to taps (unless I turned it off and back on again), would scroll erratically (or not at all), and had a slight yellow tinge around the edges. I toyed with the idea of getting a "new" device from someplace like Gazelle or eBay, but decided to just re-up with AT&T. After figuring out their byzantine terms and condition for the AT&T Next program, I placed my order for a new matte black 128gb iPhone 7 Plus and had it a few days later.
After backing up my current device to iTunes and iCloud, I was ready to restore to my new iPhone. Ah, but not so fast … the 7 Plus came with iOS 10.1 installed so first I had to download and upgrade to iOS 10.2 before I could continue. Finally I was able to kick off the final sync to get all of my music downloaded, apps installed, etc.
I had forgotten what a pain it can be transferring to a new phone. It's definitely easier than it used to be, but I still had to launch every application and re-login. Additionally, you can't easily transfer the codes in the LastPass Authenticator. I had to log into each site that I had configured for 2FA (Google, Amazon, Microsoft, GitHub, etc.) and add my new device to the app (which sometimes involved disabling two-factor authentication and enabling it again). I also had to re-pair with my Bluetooth devices like my car and M50 headset (but my LE devices like my FitBit One and Automatic Link auto-paired without any intervention from me, so maybe that comes across with the iTunes backup, not sure).
Going from a 6 Plus to a 7 Plus wasn't a huge change for me as physically the phones are identical. I went with my standard Spigen slim case and matte screen protectors and am pretty happy with the new phone so far. There are only a few minor differences/areas I need to explore:
no headphone jack: not a big deal since the phone comes with a new set of Lightning adapter headphones and a 3.5mm-to-Lightning adapter so I can still use my old earbuds. I rarely need to charge and listen to music at the same time (or if I do, I'm using my Bluetooth headset) so I don't see this being a big problem.
haptics: the home button is not an actual button anymore, which was necessary in order to make the iPhone 7 Plus water-resistant. Instead, when you "click" the home button, there's a haptic feedback sensor that allows you to "feel" the click. This same haptic sensor is used to replicate the vibrate feature on older iPhones, for 3D touch, and for letting you "feel" on-screen controls (like sliders) making clicks. The vibrate feature (for example, when the phone is ringing) isn't as strong as the iPhone 6 Plus, but it's enough so that I can feel it in my pocket but when it's on a hard flat surface it doesn't make a super loud noise anymore or threaten to vibrate itself right off the desk, which is nice.
dual cameras: this is probably the biggest change area for me, going from an 8MP rear/1.2MP front camera setup to dual 12MP rear (one wide-angle, one telephoto) cameras (with 2x optical zoom) and a 7MP front-facing camera. I've already turned off the Live Photos feature, but the Retina Flash is a neat addition to the front-facing camera. I've got an example of low-light and zoomed photos attached below. I've never been completely satisfied with my iPhone's camera (which is why my go-to camera is still my Canon PowerShot SX710) so I'll have to see if I can get better photos (like they show in the ads) on the 7 Plus (especially with portrait mode).