Hey, just so you know ... this post is now about
5 years and 1 month
old. Please keep that in mind as it very well may contain broken links and/or outdated information.
Despite being only four years old, my Canon PowerShot Elph 300 HS had been showing its age: there were annoying dust specks on the CCD and it had been taking longer and longer to auto-focus, causing me to miss shots. I decided it was time for a new camera. The top features I wanted? A really good optical (not digital) zoom, preferably waterproof, WiFi/GPS, and, of course, a decent price. After doing a lot of research it became apparent I wasn't going to find a single camera that met all my criteria, but with prices so good why not get two new cameras?
Being a long-time Canon customer (since my first A70 back in 2003) I selected the Canon PowerShot SX710 HS as my daily-use super-zoom camera. For the specialty waterproof/rugged camera, I chose the Olympus Stylus Tough TG-4.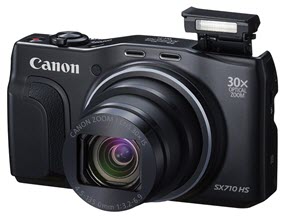 The Canon PowerShot SX710 HS is a 20 megapixel camera that sports a 30x (!!) optical zoom, Wi-Fi capability, and shoots 1920×1080 HD video. It's larger and heavier (10oz vs 6oz) than my old Elph 300HS, but that's to be expected due to the super-zoom lens, which is amazing (see my comparison images below). The user interface on Canon's cameras hasn't changed in a long time, so I was instantly comfortable with the feature dial, button placement, menu options, etc. Finally Canon has switched to recording video in MP4 format instead of MOV (QuickTime) so I don't have to go through an extra conversion step. The built-in Wi-Fi, when paired with the Camera Connect app in my iPhone, allows for relatively simple transfer of images from the camera to the phone (for posting to Facebook, adding to e-mails, etc.) and can also be used as a remote shutter trigger.
There are a few drawbacks. The pop-up flash is manual, so you need to flip the switch to release it yourself before the camera will use it (on the plus side, when the flash is down it will never fire so that eliminates the need to futz with the menu settings when you don't want it). There's still no in-camera charging option for the battery, which means I have to carry the bulky battery charger with me when travelling instead of just a USB cable. On top of that, the charger isn't backwards compatible with the Canon ones I already own even though the batteries look very similar. There's no built-in GPS, so you can use the Camera Connect app to "upload" your location to the camera to geotag photos but this requires a constant connection between your phone and the camera which can drain both batteries quicker. Using Wi-Fi to sync with Canon's PC software inexplicably requires a Canon Image Gateway account and their sub-par desktop software so I find it easier to just pop out the SD card and copy my photos across manually.
Negatives aside, I love the optical zoom on this camera and that's the primary reason I bought it.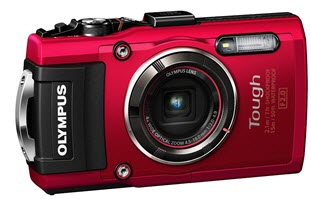 The Olympus Stylus Tough TG-4 is a ruggedized, water-proof, freeze-proof, shock-proof, and crush-proof 16 megapixel camera that has a meager (but relatively standard) 4x optical zoom; built-in Wi-Fi, GPS, compass, and manometer; can capture RAW images; and records 1920×1080 HD video. It's roughly the same size and weight of the SX710 (see my comparison photos below). All of the access doors (for the battery/storage card and cable connectors) have dual locking mechanisms and sealed interiors to keep out the elements. It's a little strange to see a camera without a lens cover, but the lack of moving parts makes sense for a camera that can be used underwater. Hopefully the "Tough" in the name means the glass in front of the lens won't scratch easily. The TG-4 also has a small amount (55mb) of internal memory which is a nice "backup" in case your SD card is full (although that's only enough for six 16MP images and you can't shoot RAW onto it at all). Like the Canon, you can install Olympus' Image Share app on your smartphone to download images, initiate a remote shutter, and geotag your photos.
Unlike the SX710 you can (only) charge the battery while inside the camera. Unfortunately, this requires a proprietary "multi-connector" cable instead of a standard USB cable which means yet another non-standard cable (and brick) to remember when packing for a trip. Like my older 300 HS, the TG-4 shoots video in QuickTime (MOV) format which I personally prefer to convert to MP4.
It's a little nerve-wracking putting a $300 camera underwater for the first time. 😮 I took a few underwater photos in the pool on a cloudy day and the images were pretty good (see the gallery below). Afterwards, I rinsed it with fresh water in the sink, dried the exterior, and then carefully checked the door hatches to make sure they were dry (and they were). Time will tell how the TG-4 stands up to trips to the beach, mountain hiking, biking, etc.
The drawback of having two cameras is, of course, needing to carry two cameras (the best camera is the one you have with you) but in most situations I'll know ahead of time which camera to bring. I won't need to bring my SX710 to the beach, I shouldn't need the TG-4 at a high school football game, and I can take both on vacation.
Zoom comparisons: