Hey, just so you know ... this post is now about
6 years and 3 months
old. Please keep that in mind as it very well may contain broken links and/or outdated information.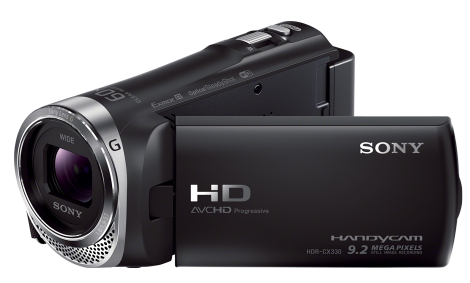 My daughter had to do some filming for a class project and the thought of having to transfer her video off of my old Panasonic PV-GS250 miniDV camcorder (in real-time) just wasn't appealing. I decided it was time to get an HD camcorder. Since I needed it pretty quickly, I did some brief research on Consumer Reports and then purchased the Sony HDR-CX330 at my local Best Buy (online, with in-store pickup).
It's been almost 9 years since I last purchased a camcorder so of course the technology has progressed way past miniDV tapes. And so have prices, of course: my Panasonic 3CCD camera cost me amost $1000 back in 2005 and I got this new Sony HD 1080p camera for under $300. Wow.
I don't use a camcorder very often, so I didn't need a lot of features but the Sony packs in some goodies in a very small package. Its wide-angle lens has a 30x optical zoom, a 2.7″ color LCD display, it can dual-record AVCHD and MPEG-4 HD video onto microSD or MemoryStick (does anyone actually use that?), has intelligent optical image stabilization, takes digital photos at 9.2MP, supports both NFC and WiFi connectivity, and has a built-in lens cover and USB cable.
Downloading Sony's PlayMemories Mobile software for your iOS or Android device let you use your phone (or tablet) as a remote control for the camera or to easily download your videos over WiFi or NFC. There's also a desktop version for managing and editing your videos (although I tend to stay away from vendor-supplied software).
You do sacrifice features found on higher-end, more expensive cameras, however, like the ability to connect an external light or microphone, internal storage (separate media card required), manual focus ring, or an integrated viewfinder. But when compared to  my old Panasonic it's smaller, lighter (although cheaper-feeling since it's all plastic), and overall easier to use. I gave the camera to my daughter, showed her the basic features, and she was off recording her project with her classmates. When she was done, I just popped the microSD card out of the camera into her laptop and copied the MP4 files so she could start editing. No more waiting for real-time transfers off of miniDV tapes!
I haven't used the camcorder myself, yet, but I'm happy with how the HDR-CX330 has worked out so far. You can be sure I'll update this post (or comments) with anything else I feel is pertinent.