Hey, just so you know ... this post is now about
6 years and 11 months
old. Please keep that in mind as it very well may contain broken links and/or outdated information.
Although there was nothing technically wrong with my trusty workhorse Epson AcuLaser CX11NF color laser printer/scanner/fax machine, it was over 7 years old and I was starting to be disappointed with its color quality, speed, and general noise. Rather than replace it with another color laser printer, I decided to go with dual printers: a monochrome laser for basic printing, and a color inkjet for photos. I ended up selecting the Epson Expression Home XP-410 and Canon imageCLASS MF4890dw.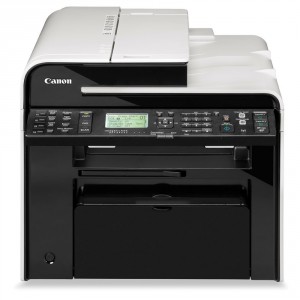 The Canon imageCLASS MF4890dw is a monochrome laser printer/scanner/fax that met my requirements for a new workhorse machine:
relatively inexpensive: ~$199
relatively fast: 26ppm
network connectivity: ethernet and B/G/N wireless
duplex: printing and scanning
automatic document feeder: 50 page ADF
quiet: it has a slower "quiet" mode, more on that later
For the most part I had no problems getting the new printer set up and working. Of course, I this wouldn't be a "chmod 644" technical blog post if I didn't describe the issues I did have, so here we go.
Scanning is a bit annoying. My old Epson would just switch modes automatically: I could physically load the document, then click "Scan" in PaperPort. Now I have to load the document, remember to press the Scan button, arrow down to "Remote Scan" and press OK before starting the scan process in the software. Extra steps bug me! I still need to experiment with "push" scanning and setting up the PC preset buttons, but that would involve a change to my workflow as well and I'm generally resistant to change. 😉 Having a duplex scanner is great, but I learned there is a difference between a duplex scanner and duplex scanning. The MF4890dw can't scan both sides of the page in a single pass. Rather it scans the first side, the reloads the page and scans the opposite side. So it takes just as long to scan a 10-page, double-sided document as it would to scan a 20-page single-sided document. Granted this is a minor nit since it still saves me from having to scan the document twice and then merge the two scans so I'm still happy with the new feature.
These next two items are really my fault for not researching thoroughly enough. There is no Windows RT driver for the MF4890dw, which means my daughter can't print to it from her Surface RT tablet. I contacted Canon and they have no plans to support Windows RT. Even sharing the printer from my Windows 7 desktop won't work because that still requires a driver for the client device (which doesn't exist). I even tried setting the 4890dw up on my Linux server (with Canon's own drivers) and couldn't even get those to work properly. Finally, the unit doesn't support the native AirPrint protocol in iOS. Canon does have its own Mobile Printing app but it requires (again) extra steps and isn't as elegant as just using AirPrint from whatever application you happen to be viewing a document in.
As for the noise level, there's a "quite mode" button on the console you can press to limit the noise the printer makes at the expense of print speed. Here are two videos I took (sorry for the low light level) showing the different between "normal" mode and "quiet" modes. You can also schedule quiet mode through the printer's web-based administration interface. For now, I'm just leaving it on all the time and will disable it when I really need the speed for a large print job.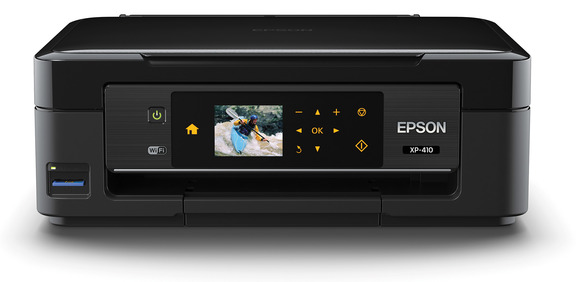 When shopping for a new photo printer, my criteria included:
inexpensive: ~$70
network connectivity: B/G/N wireless
quality photo/color printing
Based on that (and some very positive Amazon reviews), I chose the Epson Expression Home XP-410 (which I got a few months ago and forgot to post about so I just decided to combine it into this one big printer re-org article).
The XP-410 uses the four standard separate ink cartridges (black, cyan, yellow, and magenta) familiar to most color printer users nowadays (and, as usual, the ink cost is where they get you:  ~$12 for a black cartridge and ~$25 for the three-color pack). It has a bright color touchscreen on the front panel for easy navigation of the various features. And although I don't need them, the XP-410 also has a single-sheet flatbed scanner and SD card slot (for PC-less photo printing).
Unlike the Canon above, the XP-410 does support AirPrint for native printing from iOS devices and works just fine on my daughter's Surface RT tablet (although I initially had to connect it via USB to get it to appear and then flipped to network printing after the driver was installed). Epson also has their own iOS app, Epson iPrint, that you can use for additional printing options and network scanning, which is cool.
The downside of the XP-410, at least in my experience over the past two months, is that it uses up ink fast. I'm already on my third black cartridge! I blame that on the convenience of AirPrint, though, as my wife loves being able to print work documents from her iPad to the XP-410. If the MF4890dw supported AirPrint, I could offload those print jobs to the laser printer instead. It's also not the fastest color inkjet out there (4.5ppm) but I prefer quality over speed when it comes to photo printing. With some nice matte photo paper and the right driver settings, I was able to get some really nice high-quality photos out of the XP-410.
Finally, although I replaced one printer with two, I still feel like the new units take up less space. I know this is untrue since they obviously take up more desk space in the office, but I really didn't realize what a monster the CX11NF was until I had them all near each other.