Hey, just so you know ... this post is now about
2 years and 4 months
old. Please keep that in mind as it very well may contain broken links and/or outdated information.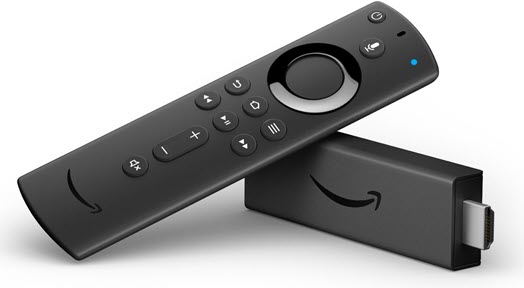 This month, I cut the cord, cancelled my Spectrum cable TV service, and switched to YouTube TV, which meant I needed a way to watch YTTV on, well, my TVs! There's a dizzying array of devices for the cord-cutter (Roku, Apple TV, smart TV apps, and more), but since I'm already an Amazon Prime subscriber, I choose the Amazon Fire TV Stick 4K.
(I actually started with the original (non-4K) Fire TV Stick since I was able to get it faster to start my testing during my free trial of YouTube TV. But I was very happy with the device so I ended up getting the 4K version for my remaining TVs. This review covers both models as one).
The Fire TV Stick is about the size of a small candy bar and plugs directly into an HDMI port on your TV (a small HDMI extender cable is included in the box to help with tight or inconveniently placed jacks). A micro-USB cable plugs into the Fire Stick and you plug the regular USB end into a small power brick. Amazon recommends using the supplied power brick for the best results, but I was able to power it with one of the USB ports on my primary 4K TV. I ended up going with the power brick, though, since when I turned my TV off, the Fire Stick would lose power and I'd have to wait for it to boot up the next time I turned on the TV.
Also included is a small remote control with Alexa voice control built-in. It's much smaller than the TiVo peanut remotes I've been using for the past 17 years, but also much simpler: power, volume/mute, rewind/play/fast-forward, and navigation buttons. To configure my TiVo remote to control my TV's power and volume I had to set IR codes. The Alexa remote just seems to magically figure out how to control the TV by playing some audio and then having you test the volume and power buttons. It works perfectly with my Samsung, Insignia, and Vizio TVs, very nice.
The remote has Alexa voice control built in so you can hold down the microphone button and then perform searches or launch apps. If you have an Alexa device like the Echo, you can pair the Fire TV with the TV it's connected to and then use the traditional hands-free voice control you're used to … for the most part. The voice control can be confusing: I can turn on my TV by saying "Alexa, watch Fire TV), but can't turn it off (if I say "Alexa, turn off the TV" she gets stuck in an endless loop saying "Did you mean TV?" "Yes." "Did you mean TV?"). Also, I can't seem to launch "YouTube TV" via voice (she keeps launching regular YouTube. So it's hit-or-miss in that area.
I miss the early days of the clean TiVo interface. Everything now seems cluttered and littered with ads and the Fire Stick is no exception. No matter how many times I "uninstall" the Amazon FreeTime app it keeps coming back. And I can't remove the IMDb TV or News apps so all I can do is try and hide them at the end of the scrolling list. But in addition to easy access to my Prime Video subscription I added all the apps I used to use on my TiVo like Plex and Pandora, plus a bunch that TiVo didn't support like Movies Anywhere, Apple TV, Fandango Now, Amazon Music, and even AT&T's Watch TV (which I get for "free" with my cellular service … I've never really used it, but it has channels like Comedy Central and Lifetime that I'm missing with YouTube TV so I might use it more now).
When I was doing my initial research and trying to decide if I was going to cut the cord and drop TiVo, I did consider the forthcoming TiVo Stream 4K. I couldn't find any confirmation it would support YouTube TV, though, and by this point I think I had made up my mind that it was time to divest myself of my TiVo infrastructure. (I believe the new device will be based on Android TV so it probably will support YouTube TV, but I also didn't want to wait until April).
In summary, so far I'm pretty happy with the Fire Stick as my new hardware for watching streaming video on my TVs. Who knows if I'll be as invested in the Amazon ecosystem as I have been with TiVo for the past 17 years, but at least now that I've ripped off the band-aid and cut the cord, switching to a different hardware platform or streaming service should be easier. As I say a lot in these posts, time will tell!