Hey, just so you know ... this post is now about
2 years and 4 months
old. Please keep that in mind as it very well may contain broken links and/or outdated information.
I've been an avid TiVo user ever since I got my first Series2 DVR back in 2003. I've owned almost every model and it's been a staple in my household for the past 17 years. Recently, however, while analyzing our monthly bills, I realized just how much cable TV from Spectrum was costing us. That got me to thinking about TiVo over the past few years:
Plus, when I purchased my last TiVo (the Bolt back in 2016), I didn't get Lifetime service so I've been paying $149/year for it. When I added that into my calculations I figured I could save almost $700/year by dumping cable TV and TiVo and switching to a streaming service.
Enter YouTube TV.
Google was offering a free two-week trial so I decided to try it out. For $50/month it has almost all of the channels I was getting from Spectrum (the notable exceptions being Comedy Central and Lifetime, which I had shows with Season Passes on TiVo for), plus family accounts, a mobile app (of course), and an "unlimited" cloud DVR: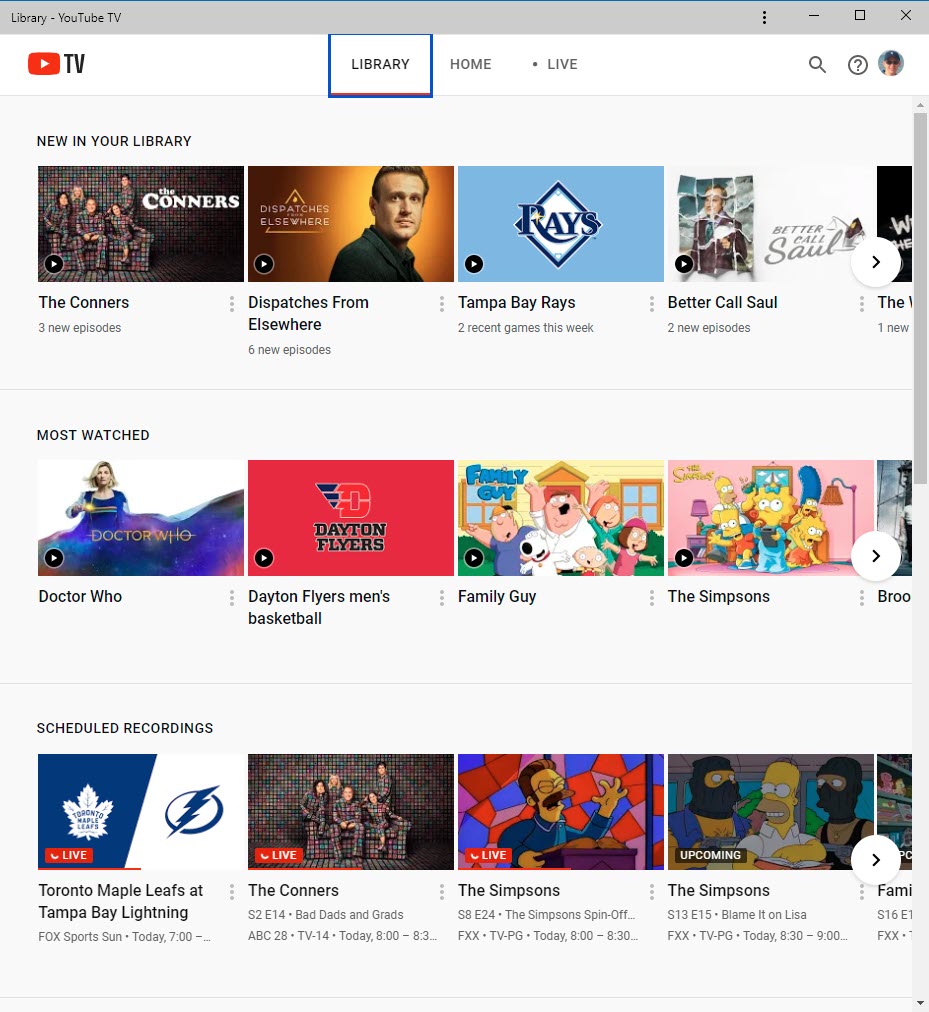 Transitioning from a physical DVR to a streaming service is taking a little getting used to. As someone on the TiVo Community Forum said (in the YouTube TV discussion thread): "You gotta let go of your OCD." I'm so used to having to manager tuners, OnePass priorities, channel lists, the To Do List, deleting old recordings, etc., it's a little strange just clicking the (+) plus sign on a show to tell YouTube TV to "record" it. No options like "new only" or how many episodes to keep, just one click. Re-programming my brain to switch from the "season pass" to "library" mentality will take some time. It's also a little weird not having channel numbers: no more tuning to channel 1008 for NBC, just search or scroll to NBC.
There are some downsides when comparing YTTV to TiVo. One big thing that bugs me is the inability to mark episodes as "watched." Notice in the screenshot above there are 6 "new episodes" of "Dispatches from Elsewhere." Those are all short clips about the upcoming show that I'm not going to watch, but I can't mark them as "watched" to remove them from the "New in Your Library" list (hopefully that feature will be added soon). Also, there are sometimes un-skippable commercials. If you're watching one of your recordings you can fast-forward past the commercials, but if you pick an available episode from your library (that's considered VOD and not a recording), you're forced to watch the commercials.
Last weekend, in the middle of my two-week trial (which ends today), my TiVo Bolt suffered a hard drive failure, almost like it knew what I was up to. That was the final push I needed to decide that YouTube TV is my new TV service.
Now I needed a way to watch YTTV on my TVs! On to the Amazon Fire TV Stick.