Hey, just so you know ... this post is now about
6 years and 10 months
old. Please keep that in mind as it very well may contain broken links and/or outdated information.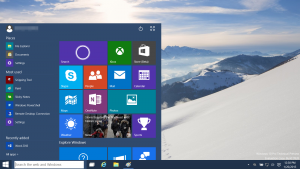 Microsoft announced Windows 10, the successor to Windows 8, last September. Like I've done in the past with Windows 7 and Windows 8, I downloaded the first tech preview in October and installed it on a spare laptop at work to get a jump on learning my way around the newest iteration of Windows. Last week, after an official media event for Windows 10 (at which Microsoft also announced HoloLens!), another big update to the tech preview was released so I grabbed the ISO and did a fresh install on my (original) Surface Pro tablet.
My Surface Pro has been sitting in my desk drawer in the office largely ignored since I got a Samsung ATIV Book 9 Plus as my main work laptop last April. I only pull it out occasionally to get updates so I figured why not re-image it with Windows 10 so I could try it out on a touchscreen device and also be able to test features like Continuum (not to be confused with the cool sci-fi television show of the same name). I've only used it a little bit so far, but here are some initial impressions.
It's the return of the Start Menu! … well, sort of. You can still get the full screen Start screen like Windows 8, but an icon in the corner lets you "shrink" it down to a more manageable size with your list of programs on the left and the pinned tiles on the right. It's not the return of the hierarchical nested folders under "All Programs" like Windows 7, but it's another compromise. I still find myself using the "press the Windows key, start typing the first few letters of the app, hit Enter" method of launching applications. Setting up the Start Menu in a corporate environment is still going to be a pain.
Windows 10 continues to get flatter and less flashy. The windows have no frames, the icons are plain, and even the minimize/maximize/close buttons are just simplistic line art at this point. I'm not that fond of the flat look, but can see how Microsoft is trying to push that "One Windows" platform that will have the same look-and-feel across phones, tablets, and PCs.
Continuum, or tablet mode, is also present in this latest build. All it seems to do on my Surface is prompt when I detach the keyboard and then run Modern (Metro) apps full screen by default. Reconnect the keyboard and the Modern apps snap back into windows. The Charms Bar has been replaced by the Action Center. You can swipe in from the right to bring up the notifications, or click the new icon in the system tray (which changes slightly if new notifications are present). If you've used the pull-down Notification Center on an iOS device, this is pretty much the same thing and another example of the blending of the desktop and mobile OS.
iOS users have Siri, Windows Phone users have Cortana, and now Cortana lives in Windows 10 too. Cortana is integrated into Windows 10 Search and you can also voice commands (even, "Hey, Cortana"). I'm not sure I need my desktop operating system to tell me a joke or look up sports scores so time will tell if this is a feature I'll use consistently.
I've run into a few program compatibility problems with Windows 10, but that's to be expected in a tech preview. I won't be using it as my primary OS but will continue to play with it and update as Microsoft releases new builds. Windows 10 is expected to launch later this year and will be a free upgrade (for a year) for users of Windows 7, 8, and 8.1. Nice!