Hey, just so you know ... this post is now about
12 years and 10 months
old. Please keep that in mind as it very well may contain broken links and/or outdated information.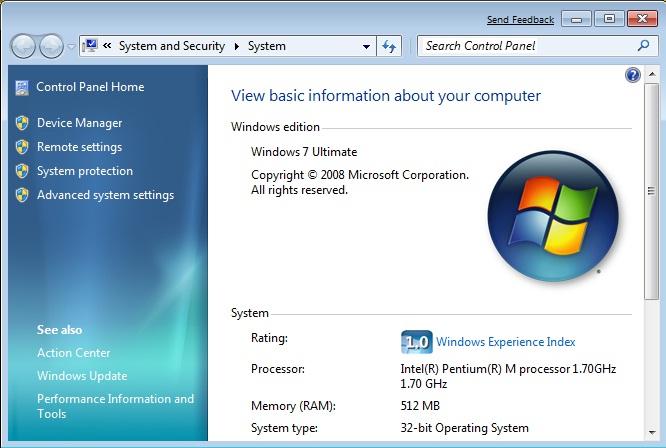 Last Friday Microsoft released the public beta of their next operating system, Windows 7. I tried several times over the weekend but was unable to download it (and I wasn't alone). Finally this morning I was able to grab the 2.1gb ISO, and the download was surprisingly fast.
I did a clean install of Windows 7 on an old spare laptop here at work (which was below the minimum requirements as it only had 512mb of RAM). The install was just like Vista: answer a few initial questions and then the OS is installed from the DVD, relatively painless.
As expected, after the initial boot into the new OS, I found quite a few components not working properly. Windows Update installed a driver for the ATI Mobility Radeon 9200 video card so I could up the screen resolution. Windows Update also tried to install a new audio driver but it keeps failing, so I have no sound. Worse, I can't get the wireless to work. Sony never produced Vista drivers for this old S Series unit and the drivers I downloaded directly from Intel didn't work either. These kind of problems I expected, though, running beta software on older hardware (a colleague at work installed the beta on a newer Sony SZ series laptop and everything worked just fine, including his wireless).
Most of the corporate apps we use at work installed without any problems (Office 2007, Reflections, pcAnywhere, Citrix, etc.). One notable exception was McAfee Antivirus 8.0i which was blocked "due to compatibility issues." This could be another beta thing, but I recall Vista had a lot of antivirus and firewall problems initially as well. AVG installed just fine.
Except the new, improved taskbar (and the neat new boot animation), Windows 7 looks a lot like Vista (and IE8 looks a lot like IE7). I need to play around some more and maybe check out the release notes to see what else is new and different.