Hey, just so you know ... this post is now about
7 years and 10 months
old. Please keep that in mind as it very well may contain broken links and/or outdated information.
This week Amazon unveiled public library books for the Kindle, a feature the Nook has had for quite some time. This evening I checked out (pun intended) the process to see how I could get a library book onto my daughter's Kindle.
First you need to determine if your local library is one of the 11,000 currently participating in the lending program. You can search overdrive.com for this information. Luckily, our library was listed, so that first step was out of the way. From the Overdrive site you can jump directly to the library's web site for borrowing digital media. It's a little strange that this brave new world of digital lending has a restriction left over from the physical world of libraries: there are only so many "copies" of a given e-book available for checkout. 🙄 Anyway, the process should be familiar to anyone who's ever bought something online: you search for what you want, add it to your "cart" and then checkout using your library card.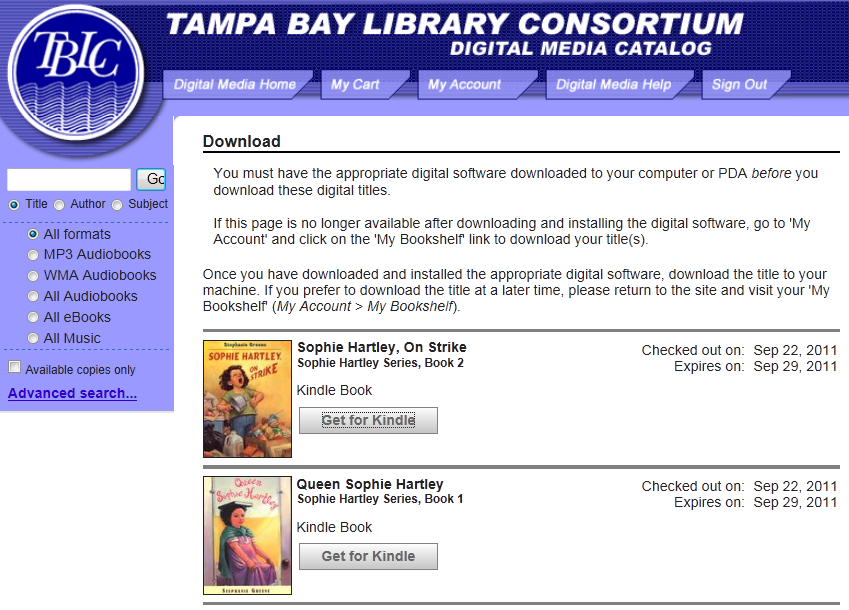 This is where the process gets a little more complicated. Now that you've checked the books out on the library site, you have to click another button (the "Get for Kindle" button in my screenshot above) which takes you to Amazon's site. Once logged in to your Amazon account, the "lent" books appear in your Kindle library and you can send them to your device.

At this point, it got even more complicated for me. I wasn't able to select the Kindle as a target for delivery, only the Kindle app on my iPhone and iPad. That's when I noticed this note on the site:
Note: Public library books require an active WiFi connection for wireless delivery to a Kindle device. Library books will not be delivered via your Kindle's 3G connection. If trying to send to a Kindle device and do not have an active WiFi connection, you may instead choose to load your library book via USB. Both Mac and Windows users can manage Kindle content through a USB connection.
Huh? My daughter's 2nd generation Kindle doesn't have WiFi, only 3G. I don't understand the limitation of WiFi only delivery. Why won't it work over 3G Whispernet? So now, after visiting two web sites, I had to download the .AZW files, connect the Kindle via USB, and copy the files to the device. Finally, the books were available to read on the Kindle.

Supposedly I should get an e-mail in a few days reminding me that the book with expire, and then after a week it should be automatically removed. Apparently any notes or highlights you make are stored so if you check out the book again (or buy it) everything you've saved will be in tact.
So the process is a little convoluted, but the end result is a library book on your Kindle (without having to go into a library)!