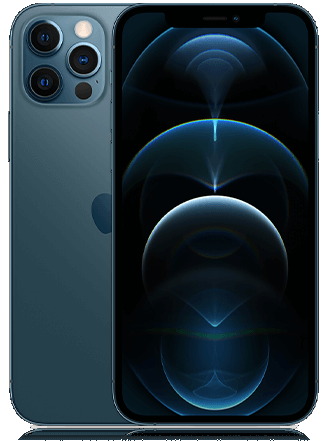 It'd been almost four years since I got a new phone, still rockin' my trusty Apple iPhone 7 Plus. But recently I'd been having charging issues due to a loose Lightning connector port, and with Apple's advances in processor and camera technology for the latest generation of iPhones, I decided it was finally time to upgrade.
After researching and comparing the four new iPhone 12 models, I had a few decisions to make. First: size. The 12 and 12 Pro are just slightly smaller than my 7 Plus, so that eliminated the Mini. Next, the camera. I've always preferred my point-and-shoot cameras to my phone's camera, especially when it comes to low light and zoom situations. If I was ready to pay a little more for a better phone camera (going with "the best camera is the one you have with you" mantra) than that meant the 12 Pro. Once I had decided that, though, it was an easy jump to just go all the way and get the top-of-the-line 12 Pro Max.
I had no trouble ordering my phone on Friday morning (11/6) when the pre-orders went live. In fact, at 7:50am when I went to the AT&T site and clicked the pre-order button, the site "put me in line" for 3 minutes, then said something like "your allowed time was 4:51am, do you want to pre-order now?" I said yes and about 5 minutes later I had pre-ordered my new graphite, 128gb iPhone 12 Pro Max (that's a mouthful!). A week later, on 11/13, my new device arrived.
Setup was straightforward … I've been doing this for a while now: I backed up 7 Plus to my iCloud account one last time, then restored that backup onto the 12 Pro Max. After the initial setup, I synced the new phone with iTunes on my PC to get all my local music and such back on the device. Of course I still had to go through the pain of re-logging into all of my accounts, but that's minor. For protection, I went with my traditional amFilm glass screen protector and a Spigen thin fit case (I was hoping the new MagSafe connector on the back of the phone, paired with the thin case, would eliminate the need for the metal plate I've kept in the case of my 7 Plus to work with my magnetic mounts on my desk and in the case, but more on that later).
The 12 Pro Max is (as expected) slightly bigger and slightly heavier (8.03oz vs 6.60oz) than my 7 Plus, but so far I don't regret going with the larger size. The screen is bright and vivid, although there are some apps that don't advantage (yet?) of the increased real estate. The notch at the top doesn't really bother me either. What's odd, though, is that the home screen seems like it should be able to hold another row of icons at the bottom (see an example screenshot below). I keep all my icons/folders on a single screen, but I guess this extra area is where the page indicator would appear. It's not big enough to hold a new widget, so I'm stuck with this annoying gap at the bottom of the screen between my last row of icons and the dock. The new widgets and picture-in-picture features in iOS 14 are neat additions. I've only been out of the house off of WiFi a few times, so I've seen the "5G" and "5GE" indicators from AT&T at the top of the screen, but can't really comment on how fast AT&T's 5G network is.
This is my first iPhone without a home button and Touch ID, so some of the new gestures and swipes took some getting used to. Face ID can be pretty awesome, when it works. Being able to just open LastPass and have it authenticate me (almost instantaneously) without needing my fingerprint is kinda cool. However, in these pandemic times, I find myself needing to manually enter my unlock code since Face ID doesn't work with a mask on my face (none of the tutorials I've tried have worked). It also doesn't work great when my phone is flat on my desk unless I put my face directly over it. I've also found that the "attention" setting doesn't recognize my face when flat on a table so the screen tends to dim and then turn off too quickly while I'm reading something.
This is also my first iPhone with wireless charging. I replaced my old iHome iPL8 radio alarm clock with Lightning dock (which might have contributed to the eventual "loosening" of the Lightning connector on my 7 Plus) with the diminutive NOKLEAD digital alarm clock with Qi charging. I didn't really need a radio alarm clock (since mostly my Fitbit wakes me up, the alarm clock is just a secondary backup) and this one is so tiny (it uses a regular USB-C cable and I replaced the included brick with a QC3.0 brick adapter for fast charging) I could easily travel with it (if I ever get to travel again soon). I don't even have to take off the thin case, I just place the iPhone on top of the alarm clock and it charges wirelessly overnight.
Like I mentioned above, I've been using a magnetic mount in my car and at my desk with my 7 Plus. This involved placing a thin metal plate inside the case, and my old Spigen thin case even had a slight indentation to accommodate the plate. I was hoping the new MagSafe connector on the 12 Pro Max would be strong enough to connect to those magnetic mounts without the metal plate (which would interfere with wireless charging) but alas, it's not strong enough. It will connect to the mounts, but then slowly slides off. I wonder if I had gone with a smaller, lighter model if this would have worked. Maybe the increased weight of the 12 Pro Max is the issue. So that's a little disappointing but I'll wait and see what kind of new MagSafe accessories come out before figuring out how to re-work my office and car setups.
[ Update: sometimes I'm blind to the simple solutions. I've left the magnetic plate in the case behind the phone, but positioned it at the bottom of the case instead of the center so it's not covering the MagSafe connector. So now I have the best of both worlds: I can use the MagSafe/Qi wireless charging and still connect my phone to my magnetic mounts. It sits a little higher than before since the plate is near the bottom, and I can't mount it sideways, but those are minor issues compared to having the phone slip off the mounts completely trying to rely on just the MagSafe connector. ]
Ok, but the real reason I chose the iPhone 12 Pro Max was for the camera, right? So how is it? Here are some comparisons between my Canon PowerShot SX740 HS, iPhone 7 Plus, and iPhone 12 Pro Max.
First, some basic outdoor shots (this was shortly after Tropical Storm Eta came through the bay area, so please disregard the broken palm branches I hadn't cleaned up yet 😉 ):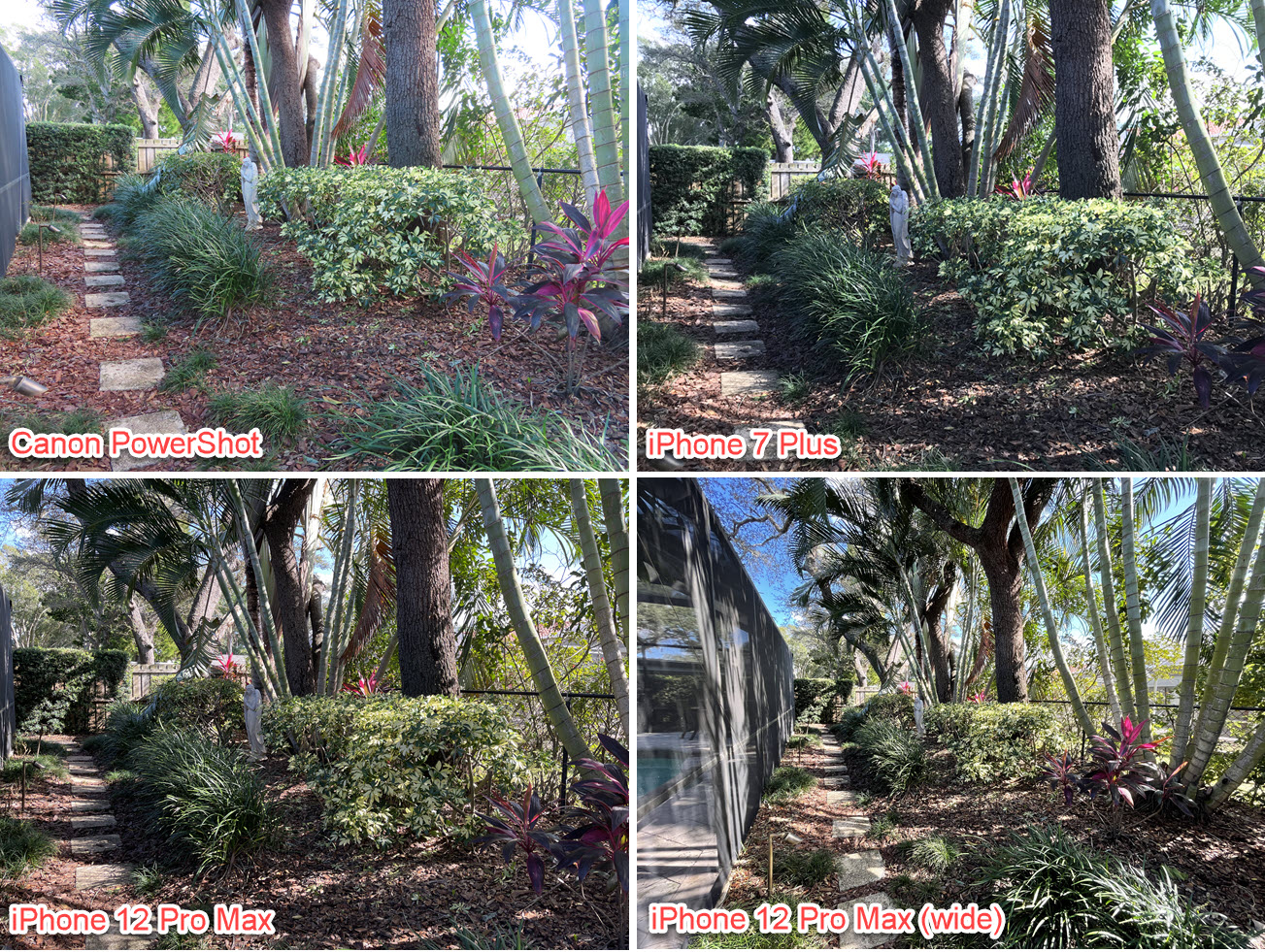 Notice the blue sky in the iPhone 12 Pro Max shots vs. the washed out white sky in the Canon and iPhone 7 Plus images. The wide-angle shot was taken standing in the exact same spot. I have to say I do like this "negative zoom" feature.
Next, a night shot with a well-lit subject: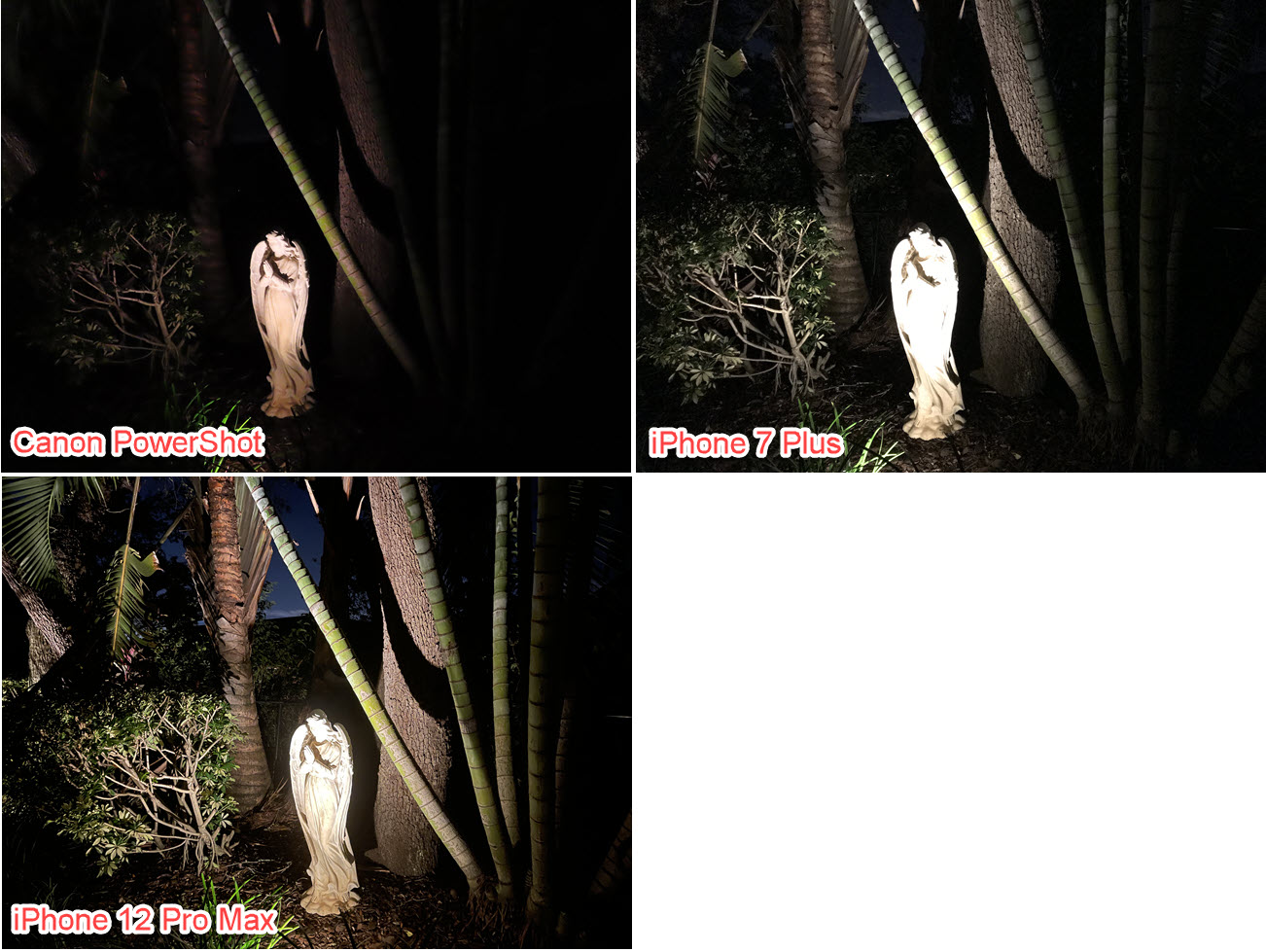 Pretty obvious here … the angel has more definition and is less washed out than the other two images, plus the visible sky in the background.
Another, darker scene: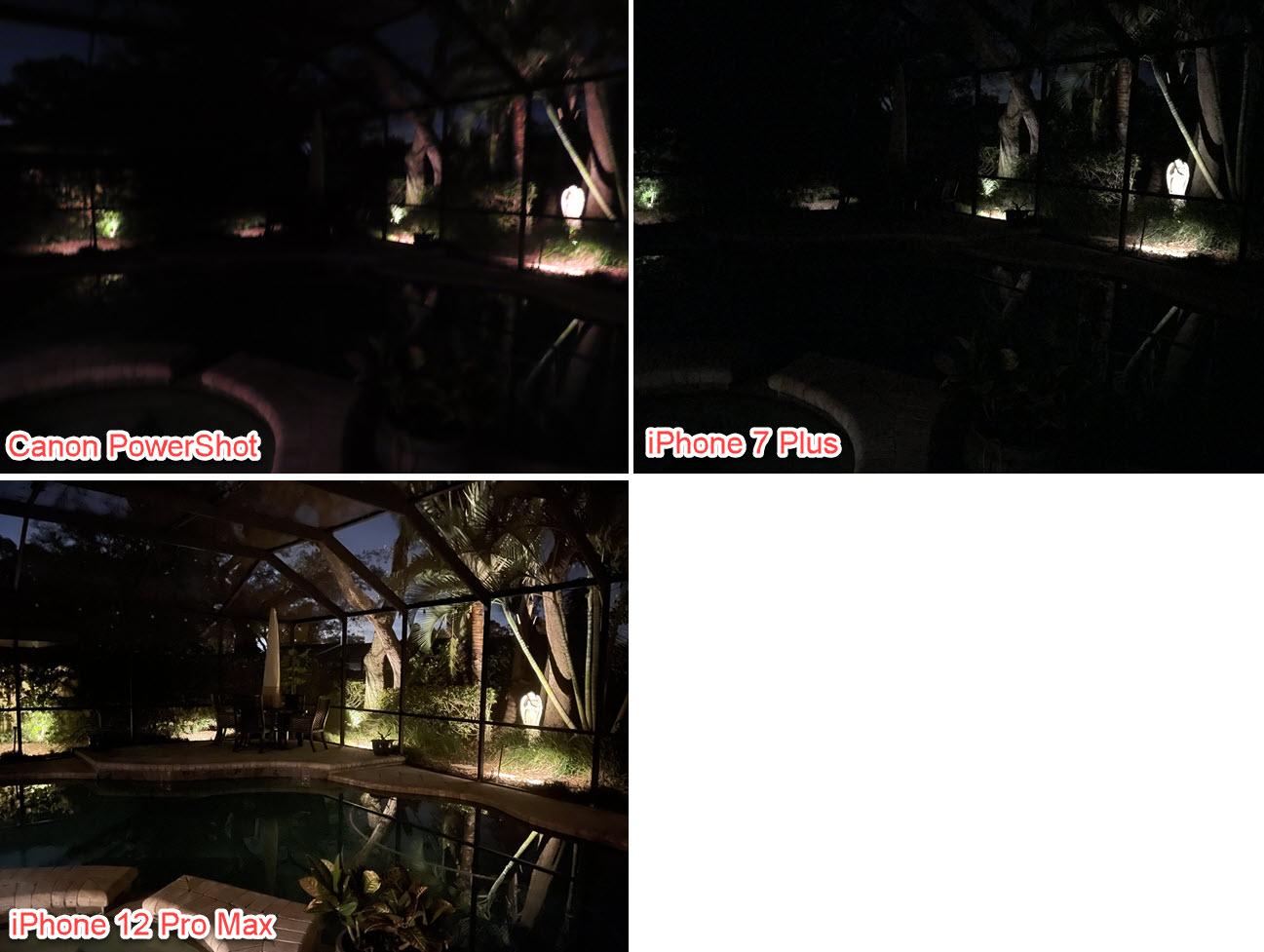 This one really shows how the night mode on the 12 Pro Max camera shines. I couldn't even get the Canon to focus properly, the 7 Plus is only showing the well-lit details, but with the 12 Pro Max you can see everything, even the reflection in the pool. Really amazing! Yes, I could probably get results like this on the Canon by messing with aperture, f-stop, and shutter speed, but I got the results above with the iPhone without even tweaking any settings, just point-and-shoot. I also still need to try some Dolby Vision HDR video recording.
One problem I have noticed with the new camera, however, is small, green lens flare dots appearing when shooting with bright lights in the background (day or night). See the photos in this post for some examples. It's a little disappointing that a high-end expensive device like this would have such an obvious flaw. I don't have that issue with the Canon or 7 Plus so it must be something about the glass covering the lenses on the 12 Pro Max. I'm not JJ Abrams after all! 😀
In conclusion, I'm pretty happy with the 12 Pro Max. Could I have been just as happy with the 12 Pro? Probably. The Pro Max has 5x optical zoom compared to 4x on the Pro, plus the larger battery, but other than that the two are basically identical (other than physical size and weight, of course). Maybe the lighter Pro would work better with my magnetic mounts, but I'm hopeful some MagSafe accessories (plus a different case?) might fix that. So right now I'm sticking with the 12 Pro Max.