Hey, just so you know ... this post is now about
2 years and 7 months
old. Please keep that in mind as it very well may contain broken links and/or outdated information.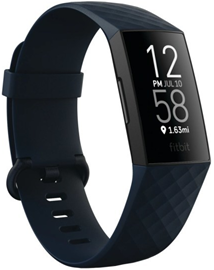 For an early Father's Day gift this year my wife and daughter got me a Fitbit Charge 4 to replace my Fitbit Charge 2 (my third Fitbit device over six years). Other than a cracked screen (which I've been living with for a while) there was nothing wrong with my Charge 2, but we're going to be running our first 5K at Disney (pandemic-permitting) in January and I guess this is a way to encourage me to start training! 😀
The Charge 4 is just slightly larger than the Charge 2 but sports a nice PMOLED grayscale screen, built-in GPS, and is water resistant to 50 meters. The Charge 2's user interface was mainly the mechanical button the side and then hard tapping on the screen. The Charge 4's touchscreen actually allows for tapping and swiping: swipe down to see notifications, swipe left for apps and settings, and swipe up for daily stats. The touch button on the side replaces the mechanical button (no way for water to get in!) and is used to go back a screen, or to bring up the Fitbit Pay interface (for contactless payments).
The "apps" on the Charge 4 are really just a handful of customizable features similar to what I had on the Charge 2: Exercise, Alarms/Timers, Settings, etc. There are also ones I won't really use like Spotify (to control the app on your phone), Weather, Agenda (calendar items), and Relax. While you can customize what apps are installed on the Charge 4, you can't re-order them, which is a little annoying. Also, since "Alarms" is now an app, you can't manage alarms in the Fitbit mobile app, everything is done on the device. On the one hand I understand this is part of "un-pairing" the Fitbit from needing a connection to the phone (like with the built-in GPS), but sometimes I'd prefer to use the phone interface to set things up instead of on the smaller display of the Charge 4. A small selection of different clock faces is also available, but that can be done only in the app, an odd inconsistency in the UI.
It takes a few extra taps and swipes to start tracking an exercise (like my nightly walk) but I've pretty much gotten used to the new routine. One new addition is "Active Zone" minutes, when the Charge uses my heart rate to detect fat burn, cardio, or peak heart-rate zones (and will buzz once, twice, or three times respectively to indicate which zone I've entered). One thing I was just starting to research with my Charge 2 was interval training as I start to prep for the 5K. The "Interval Workout" exercise type allows you to set repeating move/rest timed intervals that I will be using to "ramp up" my running time. Sleep tracking hasn't really changed much either: I wear the Charge 4 all the time and it automatically detects when I'm asleep or napping and I can review the summary in the Fitbit app on my phone.
Fitbit claims the Charge 4 has a 7-day battery life, or 4-day with "occasional" GPS use and so far that seems to track with my experience (I use the GPS every night for my daily walk so I seem to be charging it every couple days). There's also, of course, a wide variety of third-party replacement bands (I picked up some rubber "sport" bands and a black metallic one for "dressier" occasions).
The race is only six months (!!) away so I've got to start seriously training pretty soon. Hopefully the Charge 4 can help me achieve and track that goal.