Hey, just so you know ... this post is now about
5 years and 11 months
old. Please keep that in mind as it very well may contain broken links and/or outdated information.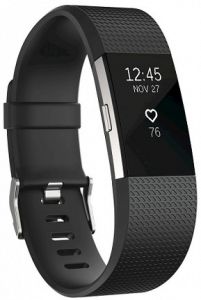 My two-year old FitBit One started having a problem last month where I would find it just off. Holding down the button would cause it to "boot" (showing "FITBIT 6.60") on the screen but while it was off it wasn't tracking any activity. It wasn't a battery issue as far as I could tell as the app was reporting an accurate status. I tried working with FitBit support but since the unit was out of warranty, all they could offer was a 25% discount code towards the purchase of a new FitBit device.
After waffling between just getting another One, or upgrading all the way up to a fitness watch like the Blaze, I decided to try the Charge 2.
The Charge 2 is a digital personal fitness tracker you wear on your wrist like a watch. In addition to the traditional FitBit tracking of steps taken, stairs climbed, and calories burned, it also has a heart rate monitor. Paired with the FitBit app on your iOS or Android device, you can customize the display (select from 8 watch faces), menu items and features. The Charge 2 can also display some notifications like incoming call info and text messages. The button on the side lets you scroll through the menu options and (forcefully) tapping on the display can also switch between items. I like that, unlike my One, I can see current battery level on the Charge 2 (without the need to plug it in) and also enable/disable silent alarms right from the device instead of having to use the mobile app. The screen is pretty bright and easier to read outdoors than my One was. So far, the Charge 2 seems to last about a week before needing a recharge. And no surprise here, the charging cable is yet another crazy proprietary connector to add to my growing cable collection (I really wish these things could be standardized).
It comes with a basic elastomer band, which can be swapped out with replacements. Rather than pay the extra $30 for the gunmetal black/stainless steel tracker, I went with the basic black/stainless steel Charge 2 and then got a nice black stainless steel replacement band to fancy it up for wearing at work (although after a few weeks of scraping along my desk while typing, some of the black powder coating is already rubbing off the clasp). With either band, it's pretty comfortable to wear and swapping out the bands is quick work so changing back to the elastomer band before going to bed isn't too big of a hassle.
My annoyances with the Charge 2 are minor. Tapping on the screen to wake it up isn't always reliable … it seems to take several forceful taps to get the display to turn on. And the "quick view" feature (that is supposed to turn on the display when you turn your wrist to look at it, like checking the time on your watch) isn't consistent either. The form factor is also thicker than my old watch, so I find it "catches" on clothing more easily (like when putting on a sweater or long-sleeved shirt).
For now I've been wearing it alone, replacing my watch, on my non-dominant hand (left). I still need to try wearing it on my right wrist while wearing a watch on my left and see if that has any effect on accuracy. I also haven't worn it while doing any yard work yet, and I worry about scratching the screen while stuffing leaves into trash bags or pruning bushes. I've already noticed a few minor scratches along the screen's edge so I might need to look into screen protectors.