Hey, just so you know ... this post is now about
6 years and 9 months
old. Please keep that in mind as it very well may contain broken links and/or outdated information.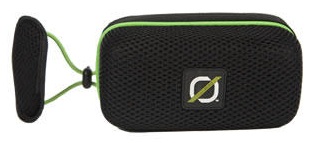 The GoalZero Rock Out portable rechargeable speaker, which I received as a recent birthday present, is the latest addition to my solar-chargeable gadget collection.
The Rock Out unzips around its edges (like a suitcase) to reveal the on/off switch, mini-USB port for charging, audio input jack, and audio output cable. The other half contains a mesh pocket just the right size to hold your smartphone. Fire up your favorite music app, plug in the cable, turn on the speakers, zip up the package, and you're ready for music on the go. A set of elastic straps along the back make it relatively easy to attach the Rock Out to the handlebars of your bike or just about anywhere. The sound quality is excellent and the speakers are loud, although there are no external volume controls: you have to use the volume on your phone which is a bit of a pain since it involves having to unzip the pouch to access the device (not an easy feat while riding a bike!).
While the Rock Out isn't a formal part of our hurricane evacuation kit, the fact that it can be charged via the solar panels I already have means it will definitely come with us should that time ever come. For now, though, the Rock Out (plus iHeartRadio on my iPhone) is serving its primary purpose as an entertainment device on our family bike rides.