Hey, just so you know ... this post is now about
8 years and 9 months
old. Please keep that in mind as it very well may contain broken links and/or outdated information.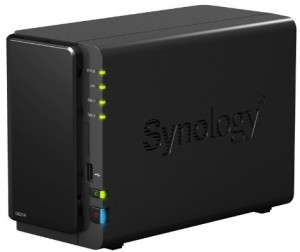 Let's try this again …
I was having way too many problems with my new Buffalo Linkstation LS420 so I sent it back and decided to give a different brand a try. It was slightly more expensive, but I selected the Synology DiskStation DS214 2-bay NAS, populated with two 3TB Western Digital Red NAS hard drives (purchased separately as the NAS itself comes without drives). Wow, am I impressed!
Setup was easy and straightforward: I popped off the front cover, removed the drive trays, installed the two 3TB drives (no screws required), and put everything back together. Then it was just a matter of connecting the DiskStation to the network, powering it up, and pointing my browser at it for the software setup. Configuring the drives in a RAID-1 (actually, SHR) configuration was a snap, and within 15 minutes I was copying data to my new NAS. Compare that to the over 24-hour initialization process the Buffalo LinkStation 420 had to go through before it was ready for use.
Synology's software, DiskStation manager (or DSM) is incredibly elegant and easily the best management software I have seen on a consumer NAS. It makes the LS420's web interface look clunky and ancient by comparison. DSM runs in your browser, but has overlapping windows, "desktop" shortcuts, widgets, it's amazing: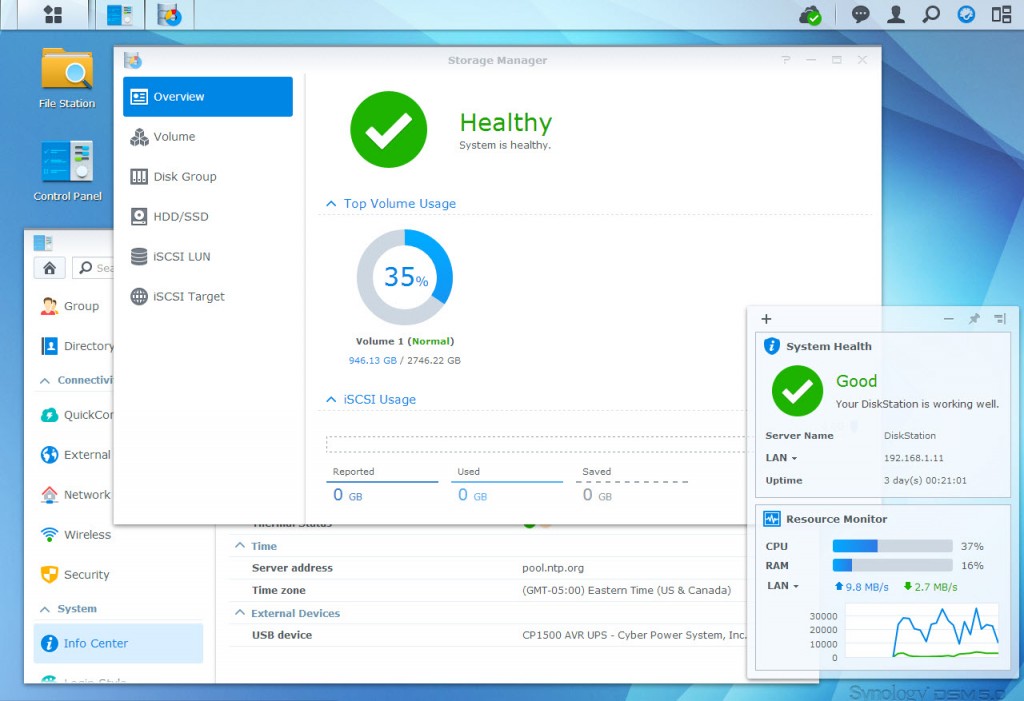 Like most other consumer/prosumer NASes, the DS214 runs Linux on its 1.0GHz dual-core ARM CPU. Unlike the Buffalo devices I've owned in the past, however, Synology allows for the easy installation of custom packages and applications, even command-line access over SSH, out of the box with no "hacking" required. The variety of available packages can be overwhelming, but with only 512mb of RAM I wouldn't recommend overloading on these.
Thanks to this "open" architecture, I was able to move some file-related services like Dropbox (using the Cloud Sync package) and Eye-Fi (thanks to this article) off of my Ubuntu Linux server and just run them on the DiskStation directly. I was a little disappointed that the Download Station app doesn't allow for torrenting through proxy servers (one feature that the LinkStation does support).
The DS214 is also running NUT, so I ended up connecting my UPS directly to the NAS's USB port and then updating the NUT configuration files on the Linux server to be a "slave" to the DS214. Now, when the power goes out, the DiskStation will send a shutdown command to the Linux server and then shut itself down when the battery power is low.
I'm still going through and tweaking all the options available to me in DSM (reporting, notifications, applications, etc.) but am already way happier with the DS214 than I was with the LS420. It was definitely worth the extra money.