Hey, just so you know ... this post is now about
5 years and 10 months
old. Please keep that in mind as it very well may contain broken links and/or outdated information.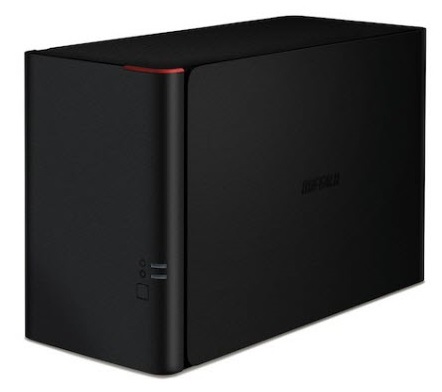 Back in 2006 I purchased my first NAS, the 250gb Buffalo LinkStation. Three years later I quadrupled my NAS space by replacing the LinkStation with the 1TB Buffalo LinkStation Live. It's now been five years since my last NAS upgrade and this time I decided to finally go with RAID. Sticking with Buffalo (I have yet to have a problem with Buffalo storage devices), I selected the LinkStation 420.
The LS420 comes in several flavors: 2, 4, 6, and 8TB, and a diskless version (which also includes a USB 3.0 port). I selected the 6TB model (which came with two Samsung 3TB drives installed) and planned on running it in a RAID-1 configuration to give me triple the storage space I had before.
Buffalo pre-configures the unit as JBOD, however (to give you the full 6TB capacity) so the first order of business (once I had it up on the network and upgraded to the latest firmware) was to switch to RAID-1. This triggered a rebuild that took over 24 hours! Considering the drives were empty, this seemed overly excessive and meant I couldn't actually use my new NAS until a day or so later. Then I was finally able to set up the folders on the new NAS and start copying my near 1TB of data from the old one.
It's hard to find a NAS nowadays that doesn't have a bunch of extra stuff built-in. These boxes are really just little Linux servers so I guess the manufacturers think they are adding value by adding features. In some cases that's true, but I won't use a lot of extra bells and whistles on the LS420.
I did decide to give the iTunes server a try, which should make it easier to share my music library with other devices in the house. I also turned on DLNA and played around with it in OpenElec on my Raspberry Pi. I was pleased that the built-in bittorrent client finally supports magnet links and proxies (like TorGuard). But other features like the print server (my printers are already on the network), web access (I use other cloud services for file access), Time Machine (no Macs in the house), and backups (I use SpiderOak for automatic offsite backups) will remain disabled and unused. I wish I could use the UPS feature, which allows the NAS to shut down gracefully in case of a power outage, but this requires the UPS to be directly connected (via USB) to the NAS. My UPS is connected to the Linux server and monitored by NUT, so it could send a shutdown signal to the NAS, but that would require shell access to the LinkStation and I haven't decided to hack it just yet.
So far I'm pleased with the Buffalo LinkStation 420. I've got three times the storage I had before and the peace-of-mind that I can have one hard drive crash and not lose any data thanks to RAID-1.
UPDATE (04/08/2014): After two weeks, I've decided to return the LS420 and can no longer recommend it. The NAS kept crashing (dropping off the network, or hanging altogether) 9 out of 10 times when I tried to copy files to it. The bittorrent client would also crash and hang the unit. I tried contacting Buffalo tech support via e-mail and also started some threads on their support forums (here and here) and after 5 days still hadn't received a single reply (other than a boilerplate "we received your inquiry and will be in touch"). This was very disappointing as I've been very happy with my Buffalo equipment in the past (routers and NASes) but I can't have a NAS be as unreliable as the LS420 has been right out of the box. So it's going back and I'm going to try the Synology DS214 instead.