Hey, just so you know ... this post is now about
6 years and 1 month
old. Please keep that in mind as it very well may contain broken links and/or outdated information.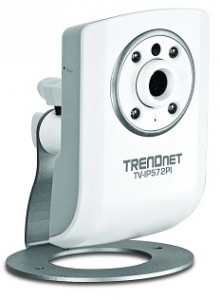 My security camera re-org project continues as I upgrade my old indoor cameras to newer HD (and PoE) versions. I replaced the outside ones earlier this month and next on the list was my four year-old TRENDnet TV-IP121W which I replaced with the very similar, but newer TV-IP572PI.
If you're new to TRENDnet cameras, the last few letters in the model name indicate the available features: W for wireless, P for power-over-ethernet, I for infrared. So, the TV-IP572PI is a PoE, night-vision camera with 1280×800 (WXGA) resolution. It's roughly the same size as the TV-IP121W, but slightly thinner (no bump out on the back) and uses basically the same mounting bracket so I was able to easily connect it to the existing one after taking down the old camera. I ran an ethernet cable from the camera's location to my PoE switch and had the camera up and running very quickly. It also comes with a power adapter in the box, which is a nice touch.
The camera supports two-way audio (although there's no internal speaker so you'd have to connect some to the audio out jack on the side) and also has a microSD card slot for recording video. Configuration of the camera's various settings are done through a web interface, which should be a familiar method to anyone who's set up a router or other network device. TRENDnet still requires a clunky browser plug-in for viewing the camera's video feed, though, so for mobile devices you'll need to use their TRENDnetVIEW app.
Since I'm still using ZoneMinder (for now) for motion detection and event notification I haven't played around too much with the camera's built-in motion-sensing features. You can set up three different encoding profiles (various resolution, framer ate, and bitrate settings) plus a fourth for mobile devices. I've found that the automatic day/night detection (for turning on the night-vision IR) can be quirky, so for now I've set it to scheduled times. The night vision image is also a little grainy in complete darkness (see below) but acceptable for my purposes.
I'll be playing around more with the TV-IP571PI in the coming weeks (tweaking, etc.) but for now the higher quality video, wider field-of-view, and PoE convenience make it a worthy upgrade to my TV-IP121W.