Hey, just so you know ... this post is now about
10 years and 10 months
old. Please keep that in mind as it very well may contain broken links and/or outdated information.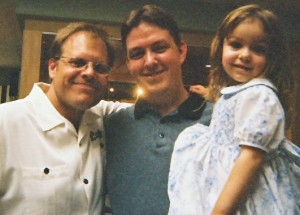 "Good Eats" with Alton Brown has been one of my favorite television shows since I first saw it back in 2000. I own a few AB-approved accessories (like the plunger measuring cups and a salt cellar) and I also have a signed copy of his first book "I'm Just Here for the Food." He signed it, to me, along with "Never run with knives!" 🙂 in the front cover several years ago when a mall tour brought him here to the St. Pete area (that's where the photo on the left was taken). We got to see him do his box fan beef jerky recipe at that show.
Now, "Good Eats" is celebrating its 10-year anniversary with a special episode being taped next month in Atlanta in front of a live audience! The show will air on Food TV on October 10. Since I've purchased stuff from altonbrown.com in the past I got an advance e-mail announcing the show and the related contest over the weekend. I couldn't resist a quick day trip to Atlanta to see a real live taping of GE, so I've already purchased my ticket (the sale goes live to the general public tomorrow). I can't wait for August 29th!