Hey, just so you know ... this post is now about
1 year and 9 months
old. Please keep that in mind as it very well may contain broken links and/or outdated information.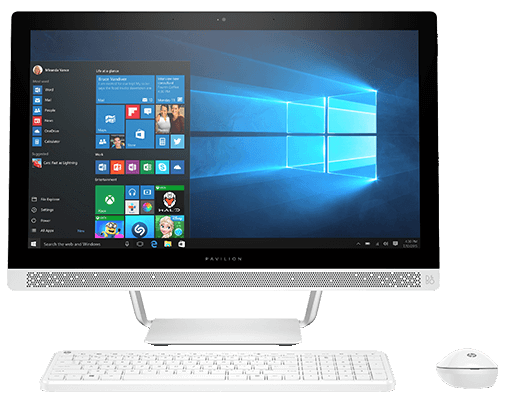 For the past few months our family PC (the Dell XPS 18 all-in-one) had been giving my daughter fits. It was time for a change.
I looked at the latest Dell all-in-ones but wasn't able to find one that acted like a tablet like the XPS 18. It was pretty convenient for my daughter to be able to unplug the PC in the family room and take it back to her room without the need to shut down or move a bulky AC adapter. But apparently most all-in-ones now-a-days don't have batteries anymore. Considering the reason I was replacing the XPS 18 was because of battery issues, I decided that wasn't a big deal. After my usual research, I decided on the hp Pavilion 24-r014.
The 24-r014 has a 23.8″ 1920×1080 touchscreen on a tilting stand, 2.4GHz Intel Core i5 processor, 12gb of RAM, and a 2TB hard drive. Other amenities include a wireless keyboard and mouse, 4 USB ports (although one is taken up by the dongle for the wireless keyboard and mouse), one Type C port, HDMI input and output jacks, wireless AC and wired gigabit ethernet, a combined microphone/headphone jack, a front-facing HD camera (with a privacy slider), Bang & Olufsen speakers, SD card reader, and a DVD/CD burner.
That's a lot of technology packed into something the size of a 24″ HDTV. Unfortunately, that comes at a cost in terms of weight. Whereas the Dell XPS 18 was just about 6lbs, the Pavilion 24 is about 18lbs! It's still movable from one room to another, but it's not as mobile as our old PC (especially since we'll need to shut it down before moving as well). I did buy a second power supply (off of eBay, I couldn't find them new anywhere!) so we can leave one plugged in at the desk at the family room and have a second for when we're moving the PC to a different location.
The PC came with Windows 10 Home pre-installed, and since we've been using our Windows Live and OneDrive accounts for a long time, the initial setup was pretty easy: log into the new machine with our Windows accounts and let everything sync down. I still had to install our applications (browsers, Office 365, etc.) and copy across some non-OneDrive files from the old PC, but for the most part the transition was a smooth one. The 2TB hard drive let me set everyone's OneDrive to sync everything locally, which was nice.
It seems obvious that hp was going for the Apple Macintosh aesthetic with the Pavilion 24's design: it's all white and silver, including the wireless keyboard and mouse (the power cable, though, is still black, which seems like an odd oversight). Time will tell how the white keyboard and mouse hold up to repeated use, dust, dirty hands, etc. It's also a little inconvenient that all of the ports are either on the back or underside of the display … nothing on the sides which makes it a little difficult to connect cables or thumb drives.