Hey, just so you know ... this post is now about
1 year and 10 months
old. Please keep that in mind as it very well may contain broken links and/or outdated information.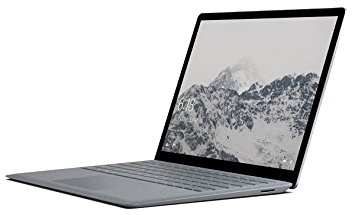 After using three generations of Microsoft's Surface tablet line (the original Surface Pro, the Surface Pro 3, and the Surface Pro 4) at work, this past week I got a new Surface Laptop.
Hardware
For our regular users we're going to use the Core i5 model, but my unit has the 2.5GHz Intel Core i7 (Kaby Lake) CPU, 8gb RAM, and a 256gb SSD. The available ports are the same as the SP4: one USB 3.0 port, a 3.5″ headset jack, one Mini DisplayPort, and the Surface Connect port (which lets me use my existing docking "brick" on my desk to connect to my dual monitors, external keyboard/mouse, etc.). Also present are a 720p forward-facing camera (a slight downgrade from the SP4's 1080p camera) and the separate Windows Hello camera. There is no microSD slot, however, and, unfortunately, no USB Type C connector. The laptop is about 3lbs, slightly heavier than the SP4's 2.5lbs. Microsoft claims the battery will last 14.5 hours … I'll have to try to confirm that over the next few weeks.
Keyboard
The backlit, Alcantara-covered keyboard is slightly wider than the SP4's Touch Keyboard and laid out almost exactly the same. The big change is the Insert key has been replaced by the power button! I missed the Ins key on the Surface Pro 3 and was happy when it made a return with the Surface Pro 4. Removing it again for the power key is aggravating, and this seems like a bad location for it, right next to Delete. I haven't accidentally pressed it yet, but time will tell how annoying that location is. Instead of keeping Insert, a new function (Fn) key for cycling through the keyboard backlight levels has been added to the F7 key, bumping PrtScn to F8, Home to F9, End to F10, PgUp to F11, and PgDn to F12 (see the photo below). I wish the power button would have been located on the right side near the Surface Connect port instead.
Also missing from the SP4 Touch Keyboard is an integrated fingerprint reader, so the only built-in biometric option is the Hello camera.
Screen/Display
The Surface Laptop sports a 13.5″ (compared to the SP4's 12.3″), 10-point multi-touch, Gorilla Glass 3 display with a 3:2 aspect ratio and native resolution of 2256 x 1504. Like every other Surface device I've owned, the display is high-gloss like a mirror, so glare from the overhead fluorescent lights in my office were a problem immediately. So as usual, I picked up some matte screen protectors from Amazon and am very satisfied with the end result (you can see it in the photos below).
The high native resolution still causes problems with older Windows applications that don't scale properly, resulting in extremely tiny text and window controls. This is mitigated while I'm in the office, docked and connected to external monitors (1920 x 1080), but when using the laptop as an actual laptop, the non-scaling apps can be annoying (and causes a lot of squinting and moving my face closer to the display).
The Surface Laptop also supports the Surface Pen, but doesn't come with one out of the box. I would occasionally take handwritten notes (in OneNote) on my Surface Pro 4, but I guess I won't be doing that anymore since the laptop form factor doesn't allow for a flat, tablet-like orientation.
Windows 10 S
My Core i7 laptop came with Windows 10 Pro out of the box, but Microsoft ships most Surface Laptops with Windows 10 S, targeted mainly, it seems, for students and educational environments (the "S" stands for "streamlined" and "secure"). With Windows 10 S, you can only run apps that come from the Windows Store. That means no iTunes, no Chrome, etc. (think of the iPhone/iPad and Apple's App Store). You can (at least at the time of this writing) upgrade to Windows 10 Pro for free, but this requires a (non-work associated) Windows Store account. In order to upgrade the other Core i5 units I was setting up at the office, I had to create a new "personal" account. I felt this was an unnecessary hoop to jump through for a business and hope that going forward, we can get 10 Pro installed by default on our corporate orders.
It's only been a week since I replaced my Surface Pro 4 with the Surface Laptop but like before it was an easy transition (installing all of my software and personalizing the setup took the most time). I'll update this post with any additional findings I come across in the next few weeks.