Hey, just so you know ... this post is now about
5 years and 10 months
old. Please keep that in mind as it very well may contain broken links and/or outdated information.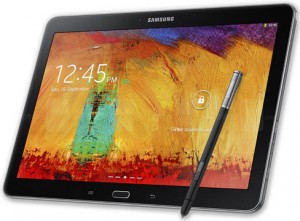 A few weeks ago I got a Samsung Galaxy Note 10.1 2014 Edition (whew, what a mouthful!) at work to replace my aging (stuck on iOS 5.1.1) first generation iPad. We're considering switching from iPads and Windows laptops to Android tablets for our mobile users and so those of us in IT are getting a first crack at evaluating these new devices.
This isn't my first isn't my first experience with Android (we evaluated a Toshiba Thrive 10 a few years ago and also support a few Galaxy Note phones in the office), but coming from a long history of iOS usage, my initial out-of-the-box experience with the Galaxy Note 10.1 has been frustrating. I'm hoping it will grow on me as I continue to use it as my iPad replacement …
Hardware
The 10.1″ Note packs a 2560×1600 (WQXGA) TFT display, quad-core 1.9 GHz CPU, 3gb of RAM, and includes Samsung's active stylus, the S-Pen. There are a few different models, but my unit is the 16gb WiFi-only one.
Unlike the iPad, the Note is clearly meant to be used primarily in landscape (horizontal) mode. The long edges are where you'll find the front-facing camera and menu/back/home buttons and the left/right speakers and headphone jack are on the short edges. In this configuration the power button is on the top left corner, the volume buttons are right next to that, the S-Pen comes out of a slot on the right-side, which is also where you'll find the microSD card slot. Along the bottom edge, right in the center, is the micro-USB connector for charging and syncing.
Right off the bat I have issues with the hardware layout:
the volume buttons are backwards: in landscape orientation, Volume Up in on the right side of the rocker and Volume Down is on the left. This seem counter-intuitive to me and if you hold the tablet in portrait mode, with the Home button on the left, this means the Volume Down button is upper one and Volume Up is the lower one (opposite of the  iPad/iPhone layout).
the microSD card slot is very hard to access: it's nice that it's hidden behind a little plastic access panel, but the slot is so recessed it's nearly impossible to insert/eject these tiny memory cards with a fingernail. I've had to use a little mini flathead screwdriver every time.
having the power connector on the bottom means that the USB cable is always in the way if you try to charge the tablet while it's propped up on your desk. Yes, you can lay it flat and it's fine, but if you have it in any type of case that lets you prop it up at an angle that's probably the way you're going to have it most of the time and then it's balancing on the cable.
On the plus side, you can easily pair a Bluetooth keyboard and mouse with the Android tablet, which effectively turns it into a little laptop. iOS supports keyboards, but having an actual mouse (and on-screen pointer) is a definite advantage that Android has.
Software
Out of the box the Note is running Android 4.3 Jellybean and will hopefully soon to be upgraded to 4.4 KitKat.
One cool software feature of the Note 10.1 is the ability to show two apps on-screen at the same time (50% split). I can have my e-mail open on one side of the screen and the Chrome browser (or any other app) on the other, which can help increase productivity, limiting time switching back and forth between apps.
The only major software problem I've had with the Note 10.1 so far is with my 64gb microSDHC card. I had been using the card in my Microsoft Surface Pro before I got the Note so it was formatted as exFAT, which would not be recognized by Android. I had to use the EaseUS Partition Manager to reformat the card as FAT32 before I could use it in the Note. Now I can read and write data to the card, but occasionally the card will appear "blank" and unreadable. When this happens, the only solution is to physically eject the card and insert it again (just un-mounting and re-mounting doesn't work). I don't know if this is a problem with the 64gb card or the tablet hardware, or the Android software, but it's frustrating when it happens.
Apps
Just like back when I switched from PalmOS to iOS, a platform change means finding new Android apps for the Galaxy Note 10.1 to replace the old iOS ones on my iPad.
For most apps, this was a no-brainer: Chrome, Evernote, Gmail, TiVo, Pandora, Facebook, Google+, Feedly, Dropbox, Box, SpiderOak, LastPass, etc. all have multi-platform releases.
Unfortunately, there's not quite 100% parity between iOS and Android. For example, Consumer Reports has a native iOS app that allows me to read the digital version of the magazine for free (as a benefit of my print subscription). On Android, however, the only way to read Consumer Reports is via Zinio, which requires a separate subscription for the digital edition. There's no Android equivalent for Air Video, and the OpenVPN clients I checked don't support TAP. Amazon Prime streaming isn't available on Android either, unless you have a Kindle Fire.
For some apps, I just had to experiment with and find a good Android equivalents. ZM View replaced eyeZM for connecting to my ZoneMinder setup; I now use FBReader for e-book reading instead of MegaReader; the beta of VLC for Android won't run on the Galaxy Note 10.1 so I switched to MX Player.
The app I used the most on my iPad, though, was Note Taker HD. After trying a few note taking/handwriting apps on Android (Papyrus, Evernote's built-in note taker, etc.) I purchased LectureNotes. It works beautifully with the S-Pen, has a ton of customization options (which can be intimidating at first), can export to Evernote, and allows for custom page templates (if you're willing to learn a little Javascript). I was able to very closely duplicate my Note Taker HD setup in LectureNotes, which was my primary goal. The only minor problem I've had so far is again related to the Note's default landscape orientation: when writing on the screen, my palm keeps accidentally triggering the menu/back/home keys along the bottom bezel. You can disable the Back button in LectureNotes while writing, which I've done, but I still occasionally press the Home button which dumps me out of the app. I'm going to try writing notes with the tablet in regular portrait mode and see how that goes.
Summary
Samsung recently released a new 12″ version of the Galaxy Note, which is getting into regular laptop size. I also found this article on PCWorld that pits the Galaxy Note Pro against the Surface Pro 2. 
Surprisingly (to me), I haven't missed my iPad that much since switching. The first week or so was the toughest and most time consuming as I configured everything just the way I liked it, learned all the new settings, found replacement apps, etc. I still find Android a little frustrating to use (mainly due to inconsistent UI elements and use of the menu/back buttons) but even iOS has little quirks that still bug me after years of using it. Just like I eventually ended up jailbreaking my iPhones I may look into rooting my new tablet, but for now I'll try to learn (and enjoy?) the Samsung Android experience.