Hey, just so you know ... this post is now about
6 years
old. Please keep that in mind as it very well may contain broken links and/or outdated information.
Mountain hiking and baseball … another perfect day in the valley of the sun.
7:15am: we're up early to go hiking so we grabbed a quick breakfast at the hotel, which wasn't anything to really write about. The front desk clerk promised that our suite would be the first room cleaned once those people checked out so we could move into it.
8:20am: we're at the head of the Echo Canyon summit trail at Camelback Mountain. We totally lucked out and got a parking spot as soon as we arrived so no crazy hunt for parking like two years ago.
9:40am: we reached the summit! My sister had to turn around at about 1/4 mile mark due to her knee, but the rest of us, including my daughter, all made it to the top. The views of the valley are incredible.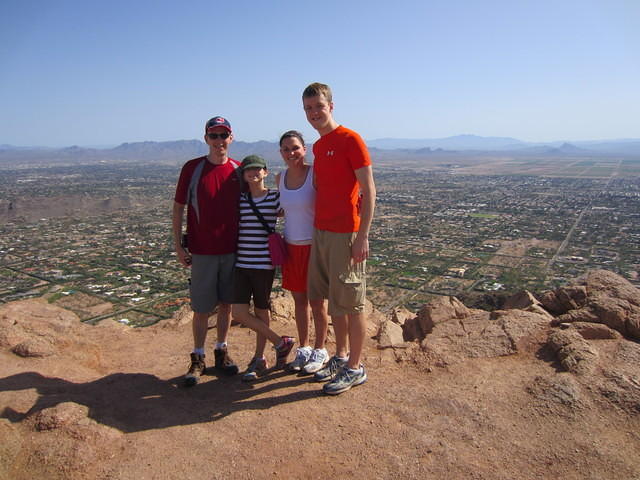 After resting and taking some photos, we start our way back down.
11:30am: we're back at the trailhead. What a workout! My sister-in-law actually met some old college friends on the way down. They live in Wisconsin but are out here for spring training too. Weird! Here's the map of our hike from my brother's Garmin watch.
1:05pm: after a quick turnaround at the hotel, my brother, daughter, and I headed out to the game, leaving the ladies for an afternoon of shopping. We're at Camelback Ranch this afternoon, spring home of the Chicago White Sox and Los Angeles Dodgers.
We're on the Indians dugout side of the park, close to the front, so I'm hoping my daughter might be able to get a ball from one of the players between innings. Right before the game, she managed to get Sandy Alomar's autograph!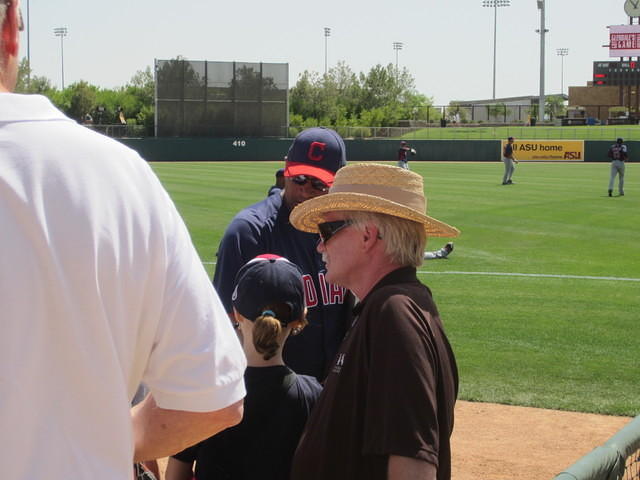 4:00pm: we're back at our hotel. The Indians lost again, 7-1 to the White Sox, ugh. But my daughter did get a ball, thrown to her by former Tampa Bay Ray Russ Canzler (1B/LF, #79), at the bottom of the 8th inning. We tried to hail him after the game to get him to sign it, but were unable to so we'll try tomorrow. Like yesterday, it was very uncrowded … maybe coming Monday through Thursday isn't a bad idea after all, even though it requires taking more vacation days from work.
While we were at the game, the ladies went shopping at the mall across the street and also took care of switching hotel rooms, so we're finally in the suite we were originally supposed to have.
8:00pm: after trying to decide between indoor go-karting, mini-golf, and a variety of other evening activities, we drove over to the Tempe Marketplace where we had dinner at Lucille's Smokehouse Bar-B-Que, another great choice on our part. 😉
Now we're heading over to Dave and Buster's for some entertainment.
10:30pm: we're back at our hotel. No plans tomorrow morning, so we can relax and sleep in. We discovered the toilet in the bathroom is broken, however, so we're waiting for someone from housekeeping to come and fix it.