Hey, just so you know ... this post is now about
6 years
old. Please keep that in mind as it very well may contain broken links and/or outdated information.
It's our last full day in Arizona … one more game, and hopefully we'll get to see one Indians victory while we're out here.
8:30am: we all got to sleep in a bit this morning (except my daughter, who seems to be stuck on Eastern time). Housekeeping never came last night so I went over to the front desk and complained again about the toilet. Finally someone came to fix it.
9:30am: not impressed with the hotel breakfast, we went over the 5 & Diner this morning instead.
If you look closely above the neon clock in the background, you can see a black-and-white WiFi Zone sign. Who knew they had WiFi in the 50s? I also introduced my daughter to the 1950s iPod known as a jukebox. 😀
11:30am: we've arrived at Hohokam Stadium, spring home of the Chicago Cubs since 1952! Our seats are in the shade and looks like they will be for the whole game, sweet!
And you can see Four Peaks in the distance behind left field.
Before the game, my brother took my daughter over the Indians dugout side down the third base line. He was actually able to call Russ Canzler (1B/LF, #79) over to sign the ball he had tossed to my daughter at yesterday's game (she's the one in pink).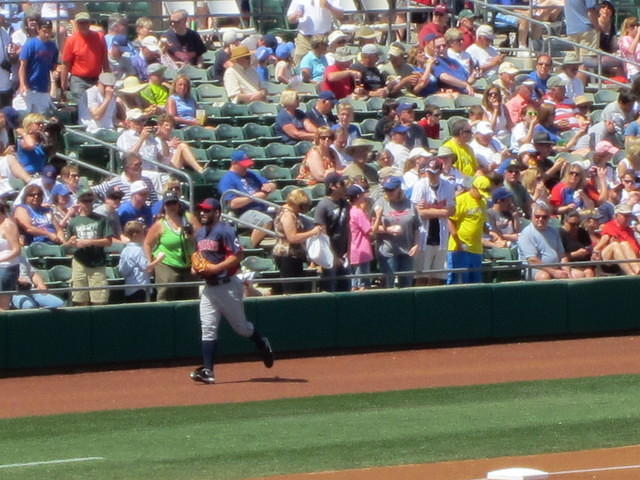 3:30pm: ugh, another Indians loss, 2-0 to the Cubbies. The Tribe has lost 8 straight and 9 out of their last 10. 🙁 This was the most crowded game of the week for us, though, with 8,911 in attendance. We couldn't argue with being in the shade for the whole game though! Two foul balls landed in our immediate area during the game. We weren't able to snag either one, but that's the closest we've come this week.
4:30pm: we had to hang out in the parking lot at Hohokam for a while to let the traffic thin out, but now we're back at our hotel packing and preparing to go home tomorrow. I went to the hotel's "business center" (I use that term loosely) to check in for our flight and found the print queue stuck and jammed with other people's forgotten printouts. So I spent a few minutes troubleshooting the old PC running Windows Vista and got everything working again so I could print my own boarding passes. I was appalled by the confidential information people had left on that machine (mostly forgotten documents on the desktop).
6:30pm: time for our annual last-night-in-Arizona tradition: dinner at Rustler's Rooste. This year I made reservations early and remembered to confirm them last week, so despite the 30-minute wait for everyone else when we arrived, we were seated immediately. We weren't near the windows but could still watch the sunset over the valley as we drank our wine, ate our steaks, and enjoyed the great food and each other's company. My daughter loved going down the slide, even though she kept pointing out a group of boys who were breaking just about all of the rules.
My brother and I went down the slide too, but we couldn't convince the ladies to do likewise.
9:11pm:  full and satisfied, we went back to the hotel and dipped our aching legs in the spa while my daughter attempted to "swim" in the pool (the water was a bit chilly). Now it's time to finish packing and get ready to fly home tomorrow. We've got early flights which means a really early start.