Hey, just so you know ... this post is now about
9 years and 7 months
old. Please keep that in mind as it very well may contain broken links and/or outdated information.
As was our new routine, we got up early, grabbed a quick breakfast at the hotel, and then hit the road continuing West through the prairies on I-90.
After about 150 miles we stopped at Wall Drug (which we pretty much had to after seeing billboards for it for the past 400 miles).
True to the billboards, there was free ice water, 5 cent coffee (neither of which we sampled) and lots to see. We wandered through the massive drug store and bought a few souvenirs. The Black Hills were our final destination though, so after gassing up the car we were back on the road.
Shortly after 1pm we were driving into the Mount Rushmore National Memorial … wow. This is one of those things you see on TV and in movies all the time, but those just don't have the same impact as seeing it in person. It is soooo easy to take good pictures of the monument, especially when you have gorgeous weather like we  had. Here's a "postcard" shot I am particularly proud of:
And a view from the road leading up to the monument:
At the museum, my daughter completed the Junior Ranger program (just like at Mammoth Cave) and earned another badge while my wife and I read about the creation of the monument and viewed the various exhibits. It is definitely an impressive piece of work.
There's not much to do at Mount Rushmore (other than gape at the monument and the scenery) so we had only planned to stay for two hours, which was just about right. Soon we were back in the car and finally heading east as this was the western-most point of our road trip. The drive back east on I-90 was a little boring (but still beautiful), considering we had covered the same ground just hours before, but eventually that evening we pulled into our hotel in Sioux Falls.
Tomorrow is another long driving day …
GPS statistics after Day 6: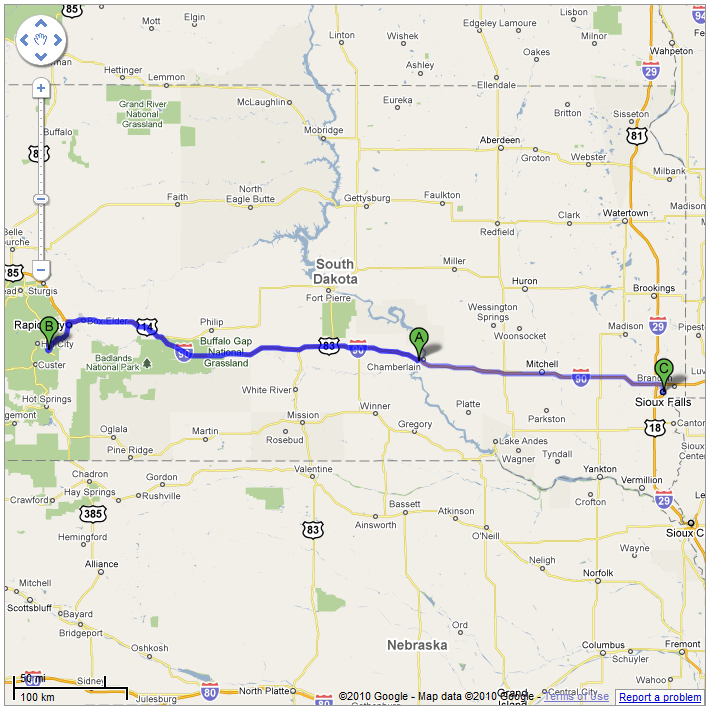 (I forgot to take a screenshot of the GPS at the end of the day)