Hey, just so you know ... this post is now about
11 years and 6 months
old. Please keep that in mind as it very well may contain broken links and/or outdated information.
More driving today, as we crossed 5 more states/districts: Virginia, Maryland, D.C., Delaware, and Pennsylvania.
We left Wilson, NC around 9ish and found our first Starbucks since leaving Tampa about 50 miles north on I-95 … finally! 😉 Continuing north into Virginia, we decided take the Jamestown-Scotland Ferry across to Williamsburg. This entailed leaving I-95 and taking some back roads through the Virginia countryside, which was a nice change from the monotony of the interstate system. The ferry ride across the James River was pretty cool.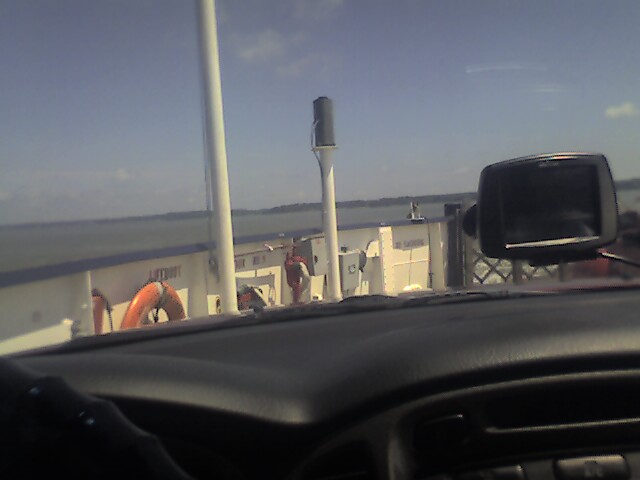 Once in Williamsburg, we made a bee-line to The Cheese Shop in Merchants' Square for lunch, making sure to pick up some bread ends and house dressing for later. After lunch we briefly strolled the grounds of the colonial settlement, taking some photos of the courthouse, armory, and Governor's palace before jumping back into the car.
Many hours later, we took a detour through Washington, D.C., driving through the national mall to catch glimpses of the White House, Capitol building, and the Supreme Court. Then it was back to the interstate.
Finally around 7:30 we reached my brother-in-law and sister-in-law's place in Cheyney, PA. Tomorrow we'll probably take in the sites of Philadelphia.