Hey, just so you know ... this post is now about
14 years and 5 months
old. Please keep that in mind as it very well may contain broken links and/or outdated information.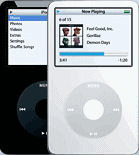 My luck continues … I was the winner of a random drawing for a customer satisfaction survey I filled out some months back. My prize: a 30gb 5th generation Apple iPod with Video!
Now, there was nothing really wrong with my trusty Archos Jukebox Studio 20 that has served me well for close to four years, but it's not as sexy as the iPod. I've only had it a couple of days, and am still in the process of learning iTunes and copying my 4000+ tracks to the new device, but it is one sweet little gadget.
The color screen is amazingly crisp and bright (I love the movie theater-style fade in/out of the backlight). The click/scroll wheel is fun to use and the interface and controls are much more intuitive than the Archos (hey, it's made by Apple after all!).